Every two years, Venice becomes the centre of artistic and architectural innovation with the Venice Architecture Biennale. This year's event, titled 'The Laboratory of the Future' and curated by Lesley Lokko, marks a departure from its traditional Eurocentric roots. It seeks to diversify architectural perspectives by focusing on themes like decarbonization and decolonization. This shift challenges Western traditions, encouraging new, socially and environmentally sensitive approaches to architecture. Through a wide array of exhibits, installations, and performances, the Biennale introduces a fresh era of architectural exploration and inclusivity.
Breaking away from its Eurocentric tradition, this year's Biennale places African and diasporic perspectives at its forefront. It acknowledges that architecture goes beyond physical structures, influencing emotions, experiences, and communities. By expanding the definition of architecture to include art, performance, and activism, the Biennale erases disciplinary boundaries, fostering new opportunities for creativity and collaboration. The emphasis on decarbonization and decolonization signifies a significant shift, with architects increasingly exploring sustainable practices that prioritize both people and the planet. The Biennale showcases innovative methods utilizing natural materials, celebrating local craftsmanship, and repurposing existing structures. These approaches not only reduce environmental impact but also strengthen the bond between architecture and its cultural context.
Unlike previous editions, this year's Venice Architecture Biennale aims to give a voice to underrepresented architects and regions, particularly from Africa and the African diaspora. Lesley Lokko's curation strives to showcase architectural practices that break from extractive and exploitative traditions of the past. By broadening the scope of architecture to encompass art, performance, and activism, the Biennale embraces a more inclusive and diverse range of spatial experiences.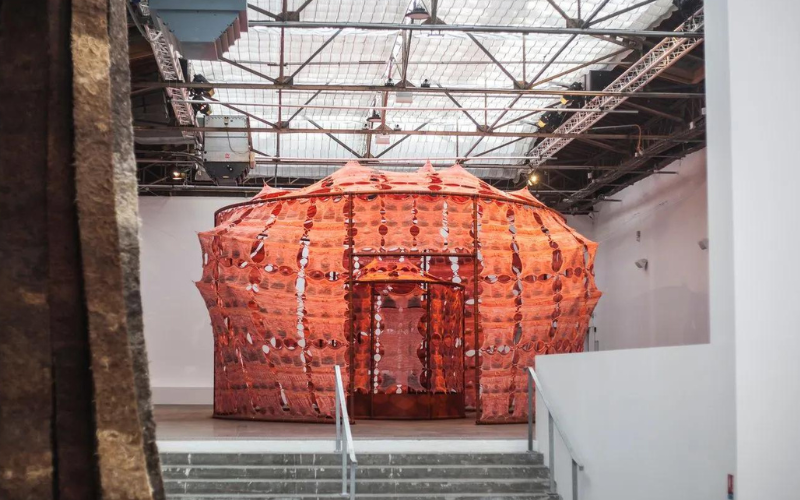 In the historic Corderie, the focal point of the Biennale, visitors encounter thought-provoking installations. One such installation showcases Rhael's "Lionheart" Cape, proclaiming that architecture should evoke emotions rather than contribute to psychosis. This unconventional approach challenges the traditional concept of architecture, emphasizing its capacity to create meaningful and empathetic spaces.
'The Laboratory of the Future' encourages architects to explore unconventional shelter and construction methods. Exhibitions highlight practices relying on minimal infrastructure, such as weaving or earth building, and the adaptive reuse of existing structures. The work of Flores and Prats, exemplified by their Sala Beckett theatre in Barcelona, showcases the transformative potential of old buildings. Another intriguing piece is "Bengali Song," a woven triptych depicting a flood-proof home crafted by artisans from Bengal in collaboration with architect Arinjoy Sen.
While architectural projects take a secondary role in broader concepts and ideas, several notable contributions stand out. David Adjaye's practice presents models of future projects, including Ghana's national cathedral and a proposed home for repatriated Benin bronzes in Nigeria. Norman Foster's prototype for emergency housing integrates local knowledge and youth-driven solutions. The emphasis on sustainability, lightweight design, and adaptability reflects a growing awareness of the need for environmentally conscious architecture. The national pavilions, aligned with the Biennale's themes, offer a diverse range of exhibits. The Nordic countries pavilion, curated by architect and artist Joar Nango, explores the culture and traditions of the Sámi people, while the British pavilion presents a compelling film compilation showcasing the lives and rituals of minorities in Britain. Angolan artist Sandra Poulson's representation of everyday objects in Luanda, made from blue soap, evokes intrigue and contemplation.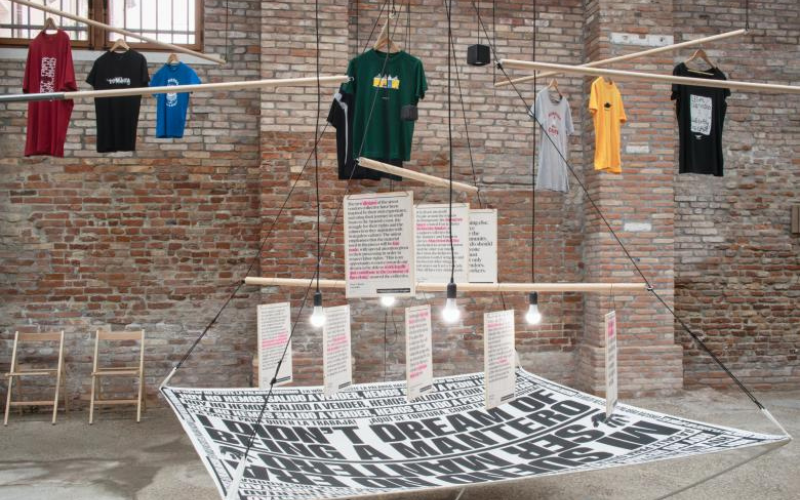 One remarkable aspect of this year's Biennale is its ability to evoke emotions and stimulate introspection. The exhibits challenge visitors to reconsider preconceived notions about architecture and engage with the deeper meanings within spaces. From the poignant documentary on the Uyghur Chinese internment camps to the haunting exploration of colonial exploitation in the Congo, these exhibits expose the harsh realities of our world. They serve as a stark reminder that architecture is intertwined with social, political, and historical contexts. Amid these thought-provoking displays, there is an underlying sense of optimism. It stems from the recognition that the power to shape the future of architecture lies in the hands of individuals, communities, and emerging talents. The Biennale catalyzes change, empowering architects to challenge established norms, confront pressing issues, and envision alternative futures. By amplifying the voices of those previously unheard, it sets the stage for a more equitable and socially conscious practice of architecture.
As visitors wander through the Biennale's spaces, they encounter glimpses of a transformed world. It is a world where architecture serves as a medium for connection, empowerment, and positive change. The vibrant imagery of Olalekan Jeyifous's All-African Protoport lounge, with its lush vegetation and futuristic machines, represents the hope and aspiration for a decolonized and sustainable future. It invites us to reimagine our relationship with the built environment and to embrace a collective responsibility for shaping a more inclusive and equitable world.
The Venice Architecture Biennale has embarked on a bold journey of transformation. Through its commitment to diversity, sustainability, and social consciousness, it challenges prevailing architectural paradigms. By amplifying underrepresented voices and exploring alternative approaches, the Biennale creates a platform for dialogue, introspection, and collaboration. It is a celebration of the power of architecture to shape emotions, communities, and futures. As visitors leave the Biennale, they carry with them a renewed sense of purpose and a commitment to embracing architecture as a force for positive change in the world.