Salone del Mobile, amateurly known as the Milan Furniture Fair is the biggest furniture and design fair in the world. Officially named 'Salone Internazionale del Mobile di Milano', this is the one week in the entire year when the who's who of design comes together to celebrate the best design has to offer. Held annually in April, at the Fiera Milano complex, it sees the participation of over a thousand prestigious and emerging brands who have and are still carving a niche for themselves in this vast and innovative world of design. The history of Salone del Mobile is long and rich, and it reflects the evolution of design and furniture trends over the years.
The first Salone del Mobile was held in 1961, and it was organised by furniture manufacturers Federlegno-Arredo Trade Association who wanted to showcase their products to a wider audience. The fair was held in Milan, which was already known as a hub for design and fashion. The first fair was a modest affair, with only a handful of exhibitors showcasing their products. However, it was a great success, and it attracted a lot of attention from the media and buyers. Over the years, the fair grew in size and popularity at a significant rate. More and more exhibitors started to participate, and the fair became a showcase for new trends and styles in furniture and design. In the 1970s, the fair became more international, with exhibitors from all over the world showcasing their products. By the 1980s, the fair had become a must-attend event for anyone interested in design and furniture.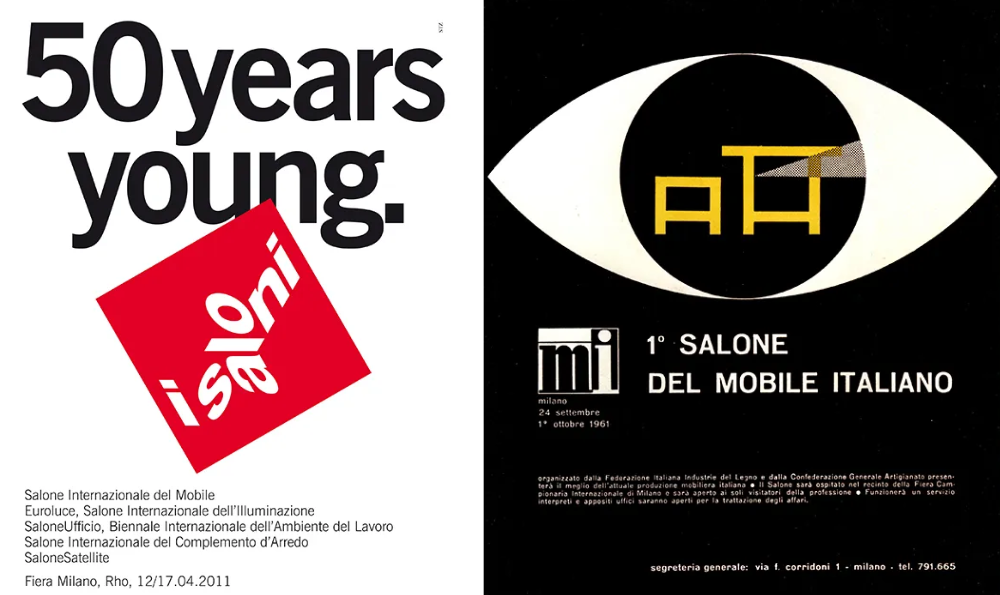 In the 1990s, the fair started to evolve beyond just showcasing furniture. Designers and architects started to participate, and the fair became a platform for new ideas and concepts in design. The Salone Satellite was introduced in 1998, which was a platform for young designers to showcase their work. This platform became a launching pad for many young designers, and it helped to promote new talent in the industry.
The fair is not just about showcasing furniture, but it is also about promoting new ideas and concepts in design, and it is a place where designers, architects, and manufacturers can come together to share their ideas and collaborate on new projects. Today, it caters to over 2500 companies, over 700 designers and 270,000 attendees from across the globe.
The secondary exhibitions at Salone del Mobile include:
A) EUROLUCE
Dedicated solely to lighting, the 'Euroluce' has been taking place every alternate year since 1976 and presents the most innovative lighting solutions for interior as well as exterior spaces. Euroluce is a sparkling amalgamation between technology, poetry and architecture whilst design is its core. Moreover, it is the most avant-garde show at Salone!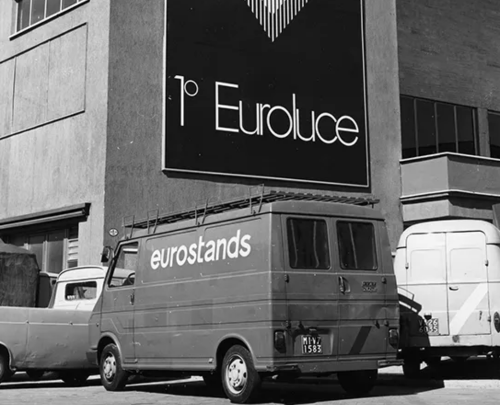 B) EURO CUCINA
Launched in 1974, the EuroCucina alongside its other event, FTK (Technology Got the Kitchen) is a leading platform for high-end kitchens and appliances. An amalgamation of contemporary design, technological innovation and energy efficiency, this is the need of the hour for the kitchen to be a space of coexistence and interaction.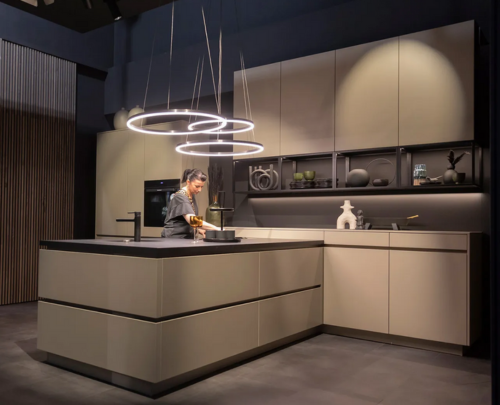 C) THE INTERNATIONAL BATH SHOW
First presented in 2003, this is the latest initiative by Salone del Mobile. It became a secondary of Salone in 2006 and as the name suggests, the focal point here is the most innovative bathroom trends and ideas whilst providing the visitors with a complete breakdown of the industry trends.
D) THE S. PROJECT
A transversal space dedicated to designing not just products but solutions and techniques, S. Project is a B2B platform for the coalescence of retailers, businesses and designers. Deemed a great network base and an ideal place to exhibit manufacturing excellence, this platform is a must-visit for everyone who visits the fair.
E) SALONE SATELLITE
The very first event to focus on the budding talent in the field of design, the Satellite is an unrivalled space to interface with talent scouts and pick out the best of all. Having been in existence since 1998, the Satellite has been taking place simultaneously with Salone and has led to many artists under the age of 35 making it big after being picked at the Satellite.
Salone is a spectrum that is as specialised as it is heterogeneous; a space that brings alive the best in design and has been doing so for over six decades. The fair returned this year with its 61st edition, the emphasis of which was sustainability. With themes like reuse, virtuous practices, circularity and regeneration at the core of 2023, the new installations were made in a way that they can be dismantled, redesigned and reused with a circular approach. Having grasped certifications like ISO 20121 and compliance with the United Nations Global Compact and the exhibitors, Salone returned in all its glory with a natural sparkle in its stride.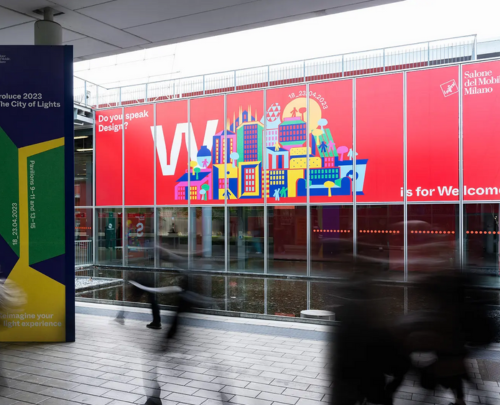 Top picks from this year's Salone were:
A) LOEWE
With their one-of-a-kind, peculiar designs and eye-catching colours, these chairs are the perfect statement piece for any contemporary home.
These chairs are not your ordinary pieces of furniture – they are unique, distinct, and bound to catch the attention of anyone who enters the room. Their peculiar designs and eye-catching colours are perfect for adding a touch of personality and character to a contemporary home. Whether you're looking to make a bold statement or simply add a splash of colour, these chairs are the perfect addition to any living space. Their sleek, modern design ensures that they fit perfectly into any contemporary interior, while their unusual shapes and patterns add a touch of playfulness and whimsy.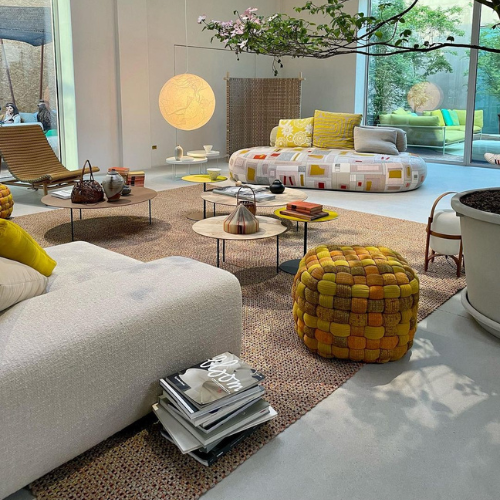 B) PAOLO LENTI
These living rooms not only showcase bold colours but also boast a sophisticated and innovative design, their modern and sleek look captures contemporary architecture in its very essence.
These living rooms are the epitome of modern sophistication. Their bold colours and innovative designs capture the very essence of contemporary architecture, making them a perfect fit for any modern home. The sleek, minimalist look of these living rooms creates an air of elegance and refinement, while their bold hues and unusual patterns add a touch of personality and flair. These living rooms are designed to impress, with their clean lines, open spaces, and attention to detail. They offer the perfect backdrop for entertaining, relaxing, or simply enjoying the beauty of contemporary design.
C) MISSONI
These ottoman seats feature eccentric designs and vivid hues that add a playful touch to the decor, making them an eye-catching and unique addition to any space.
These ottoman seats are the perfect way to add a playful touch to any room. Their eccentric designs and vivid hues make them an eye-catching addition to any space, while their comfortable seating makes them perfect for lounging and relaxing. Whether you're looking to add a pop of colour to a monochromatic interior or simply want to inject some fun into your decor, these ottoman seats are a great choice. With their unique shapes and patterns, they are sure to become a conversation piece and a favourite among your guests.
D) LOUIS VUITTON
The "Nomadic Pavilion" at Palazzo Serbelloni, designed by Marc Fornes challenges traditional architectural norms with its intricate and curvilinear design. With its undulating surfaces and interplay of light and shadow, the pavilion blurs the lines between art, architecture, and technology.
The "Nomadic Pavilion" at Palazzo Serbelloni is a true work of art. Designed by Marc Fornes, it challenges traditional architectural norms with its intricate and curvilinear design. The pavilion is a stunning example of the intersection between art, architecture, and technology. Its undulating surfaces and interplay of light and shadow create a mesmerising visual effect that is both beautiful and thought-provoking. The pavilion is a testament to the power of design to push boundaries and challenge our perceptions of what is possible. It is a true inspiration for those looking to push the limits of design.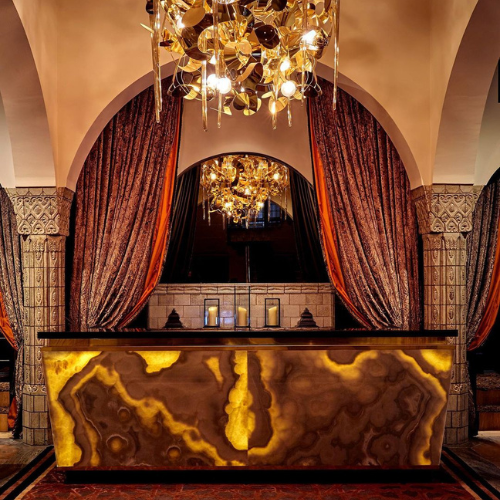 E) SOLID NATURE
The solid nature display at Salone was truly incredible. The designers used marble in such a unique and innovative way that it was hard not to be blown away by their creativity.
The display showcased the sheer versatility of marble as a material, highlighting its ability to be both strong and delicate at the same time. The intricate patterns and textures of the marble were truly mesmerising, and the way in which they were used to create different forms and shapes was simply stunning. The display was a true testament to the beauty and power of nature and left a lasting impression on all who saw it.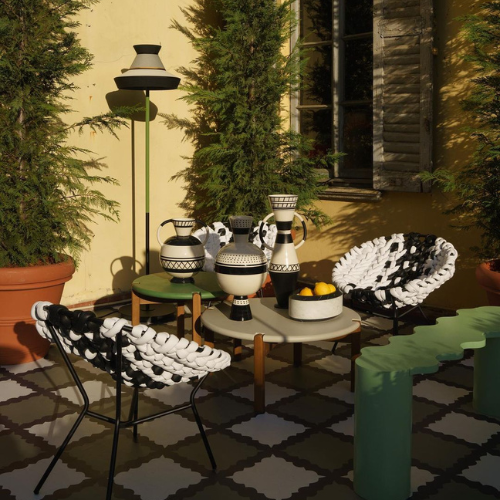 F) ARTEMEST X MONIOMI
L'Appartai offers a tranquil escape from the city, the terrace, designed by MONIOMI Design, offers a unique blend of indoor and outdoor living.
The designers from @artemist carefully selected homey, larger, and upholstered pieces to create an exterior space that feels like an interior space. The Nuovola 01 dining table designed by Mario Cucinella for Officine Tamborrino adds an organic touch to the historic feel of the space. MONIOMI Design also brought a graphic aspect to the terrace with its use of black and white materials intertwined with greens, creating a cohesive flow while making an impactful graphic statement. The terrace is a perfect place to unwind, relax, and enjoy the beauty of the outdoors while feeling like you are inside.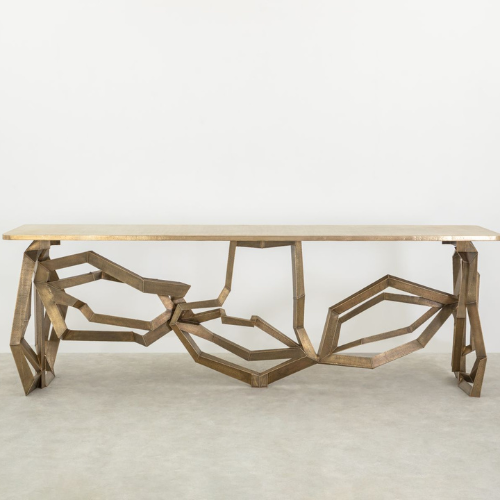 G) NILUFER
Nilufar's collection at Salone is always highly anticipated, and this year was no exception. Her curation is always impeccable, and the addition of Vikram Goyal's work to her collection was a stroke of genius.
His pieces seamlessly blended in with the overall aesthetic of the collection, showcasing his incredible eye for detail and design. The collection was a true celebration of creativity and innovation, featuring pieces that were both visually stunning and functional. Nilufar's ability to bring together such a diverse range of designers and styles is extraordinary. Her expertise and passion for design are admirable, and her collection at Salone is always a highlight of the event.
The keyword for 2023, recycling was the heart of all innovations this time. Each of the new installations was lightweight, reusable, modular, and made from recycled material. With natural raw materials like cotton, wool, jute, wood and paper at its core, Salone' 2023 got a whole lot greener. This time around, there were three novelties. The first one was the events on the single exhibition level which showcased companies of the upper pavilions (8-12 & 16-20) which were relocated to the lower ones. The second one is the new layout of Euroluce (halls 9-11 & 13-15), the lighting biennale, 'The City of Lights' by Lombardini and last but not least, third is the cultural component of Euroluce curated by Beppe Finessi.
68,00 companies, 298,000 employees, 5a turnover of 6.5 billion Euros…these numbers are symbolic of the wood furniture supply chain presented at Salone. Insane, right? The year of stabilisation, 2023 is when the fair returned in all its glory and left no stone unturned! This year, the fair was not to be missed out on!
Salone del Mobile returns on April 16' 2024