#FOYEREXCLUSIVE
Embarking on a journey through the enchanting realm of Hermès equestrian-inspired silk scarves, we find ourselves amidst an ethereal tapestry of life-size floral installations, where art and fashion converge in a symphony of creativity. These silk scarves are more than mere accessories; they are narratives waiting to be unravelled. The intricate weave of metaphors on silk offers a playground for the imagination, where the eye dances across a kaleidoscope of colours, tracing abstract shapes and embarking on a quest through resplendent gardens and enchanting lands. Creative Director Siddhi Dolas' eye for detail is evident here through the hidden details that beckon the discerning observer, inviting them to explore a world of perpetual otherworldliness.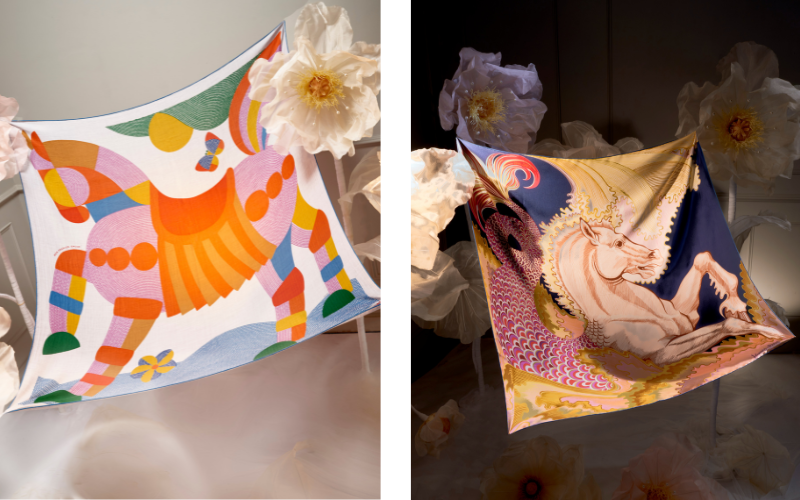 Silk, it seems, is an open canvas ready to embrace a myriad of expressive forms, making each scarf a testament to exceptional craftsmanship and technological innovation. Hermès has ingeniously merged tradition with innovation, birthing an exquisite style object that weaves stories of timeless allure. Enter the stage, artist Uurmi Bhatia, who has masterfully enveloped Hermès' handcrafted scarves with life-size floral installations, all inspired by the equestrian world. Few spectacles in the world of art rival the breathtaking image of horses galloping through majestic landscapes. It's a scene that invokes a profound sense of freedom, strength, and an unbreakable bond with nature. This visual journey, transformed into an art installation, blurs the lines between reality and imagination, ushering us into a realm where the boundaries are as elusive as the wind itself.
As we admire the beauty of this installation, we're also drawn into the meticulous craftsmanship and artistry behind Hermès' handcrafted scarves. Each piece is a testament to the unwavering commitment to detail, a celebration of the fusion of nature's elegance with the skill of human hands. These scarves, then, are not just accessories; they are wearable pieces of art, exuding timelessness and a rich legacy. In a world where fashion and art intertwine, Hermès has perfected the delicate balance, proving that elegance and innovation can coexist harmoniously, leaving an indelible mark on the canvas of style.