Good Earth's newest festive tableware marvel, "Tangerine", is in the spotlight; a collaborative creation by Anita Lal, the brand's Founder and Creative Director, and Aratrik Dev Varman from Tilla. This collection pays homage to the opulent design and cultural heritage of Morocco, drawing inspiration from the enduring motif of fragrant orange trees. The fine china pieces are adorned with watercolour illustrations that echo the charm of Moroccan courtyards and decorative arts, elevated with the lavish touch of 24-carat gold.
Good Earth, renowned for celebrating India's global design legacy, continues its commitment by weaving contemporary classics deeply rooted in the country's rich artisanal tapestry. "Tangerine" signals a fresh chapter in the brand's global creative collaborations, expanding its design repertoire while staying current, lively, and globally attuned, all through the lens of its unique design perspective.
The "Tangier" collection, unfolding as an odyssey across North Africa, takes inspiration from the region's storied legacy bordered by the Sahara Desert and the Mediterranean Sea. Various chapters of this design journey have been unveiled throughout the year, including the collaborative "Mirage" tableware collection with French designer Thierry Journo and the recently revealed "Global Nomad" textiles reflecting the craft traditions of nomadic communities. "Tangerine" serves as the culmination of this journey, ushering in the festive season in collaboration with Aratrik Dev Varman. Anita Lal reflects on the collaboration, stating, "Aratrik is a long-term brand friend and a collaborator with shared values. We have a symbiotic approach to design, which is thoughtful, immersive and storytelling-led, and where culture is always the starting point. He has approached the design of Tangerine in an academic manner, by thinking about how the patterns would fit into the larger universe that Good Earth is building".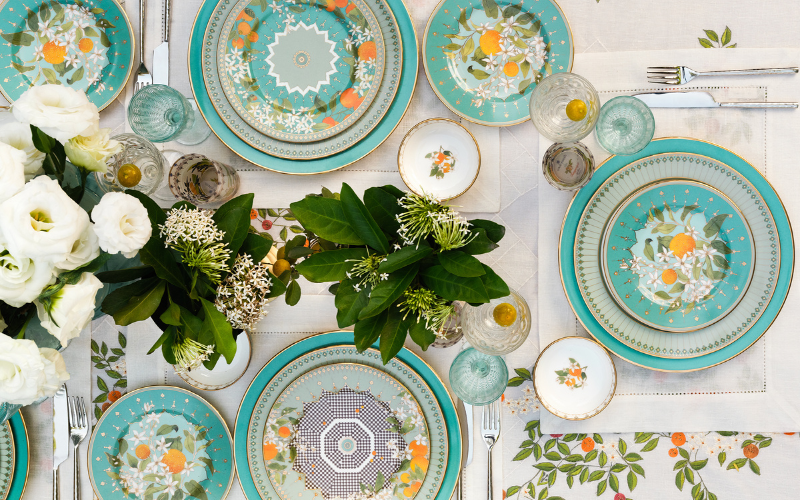 The collection itself epitomises a symbiosis of thoughtful and artistic design, meticulously intertwining nature and geometry, maximal and minimal elements. Infused with the vibrant essence of Morocco, "Tangerine" incorporates Good Earth's beloved aqua and jade tones, harmonizing them with the lively hue of tangerine. Fifteen unique motifs, intricately hand-illustrated and painted by Aratrik's collaborator Jisha Unnikrishnan, pay homage to Moroccan mosaics, courtyards, Zelig tiles, and decorative arts. In addition to celebrating Moroccan aesthetics, "Tangerine" pays homage to the art of illumination. Hand-painted 24-carat gold details, reminiscent of the gold used in manuscripts and miniature paintings, elevate the collection to new heights. Aratrik Dev Varman shares insights, saying, "Oranges and tangerines hold enduring cultural symbolism of bounty and prosperity, making them fitting metaphors for a festive dining collection."
Branded as "Art de la Table," the collection aims to infuse magic and whimsy into the dining experience. With a palette of complementary colours, vibrant patterns, and an extensive array of tableware accents, it encourages a free play of creativity and imagination, allowing for the creation of richly layered and patterned tablescapes that set the stage for enchanting dining experiences. Complete your "Tangerine" tablescape with delightful details, from jewelled glasses to embroidered table linens, creating a lavish setting adorned with vibrant orange blossoms.