Are you ready to set your table for the summer? Entertaining in summer can seem quite an effort, however, it can be made fun and simple just by keeping a few things handy. When the weather gets warm, entertaining can be made pleasant with bright and seasonal florals and a few accent pieces. Summer is also a time when there is gorgeous foliage available in our surroundings, incorporating that as an element can lend an exotic vibe. Here are some of the ways that will assist in curating the perfect summer tablescape.  
1. Patterned Tablecloth
It is often preferred to start with a plain tablecloth and layer on with more interesting objects, now while that is definitely an option, a patterned tablecloth can make any tablescape look dramatic in one instant. Starting with a bold striped, chequered, or floral tablecloth, can make a great base for the upcoming layers. Another, added benefit of using a patterned tablecloth, is that layering becomes easier with simpler crockery, and flatware, which, in general, is available in most homes. 
2. Add colourful glassware
Gone are the days, when a home would have one standard style of water tumblers. Colourful glassware is certainly having a moment right now and is completely on-trend. Quirky and funky glassware is a wonderful added element to a tablescape, especially when used outdoors for lunches. When the sunlight passes through it, it creates the most gorgeous hues. Whether it is hand-blown Murano swirls or colourful confetti splatter glasses, both are currently available by several brands in many colours. Vintage crystal glassware can also be added to make the table a bit more upscale and elegant.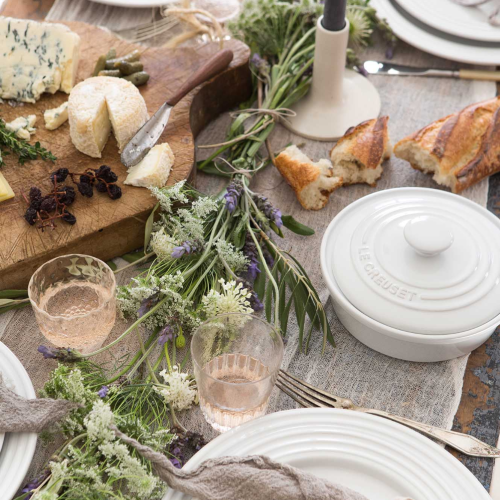 3. Aim for Rustic chic
Begin prepping the table with an elegant base cloth, preferably in linen or cotton, a light-weighing fabric that tends to have a delicate fall.  Layer on with natural material placemats, these could be in jute or rattan. Colourful napkins and flowers, bring about authentic lifelike elegance to the table. Lastly, to complement the rustic ambience, play with bamboo or wooden cutlery.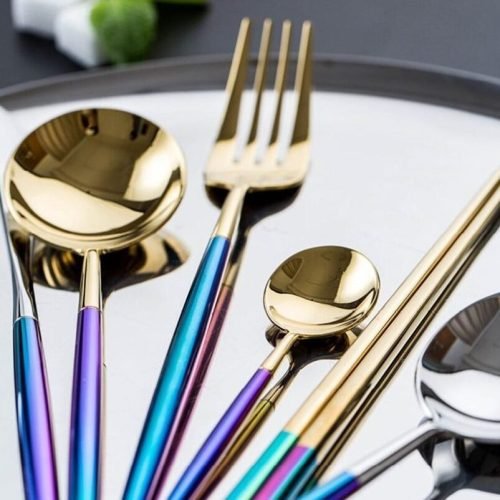 4. Experiment with flatware
Traditionally, flatware was only found in silver, and in the usual shapes. In recent years, flatware has been remodelled into a very experimental part of tableware. From exotic materials to coloured metal  and organic and inorganic shapes, flatware has become a very fun yet important element to enhance the tablescape experience. The style of flatware can be chosen based on the mood that is to be achieved. Gold instantly lifts any table, and can be used for a more formal dining experience. Bamboo, wood and rattan can recreate a rustic vibe, while traditional or vintage silverware can create a more timeless appeal.
5. Think beyond the table
It is interesting to think about what can be done beyond the table, to heighten the experience. Use really good quality furniture, even outdoors  to create a more enjoyable experience for guests. Additionally, elements such as lanterns, planters, or a canopy, can accentuate the table décor, and create an even more intimate experience. 
6. Style to detail
If using simple materials and tableware, adding small details such as a tie-up around the napkin, with some fresh herbs or foliage, or even a small personalised name tag or menu, can really create an immersive dining experience.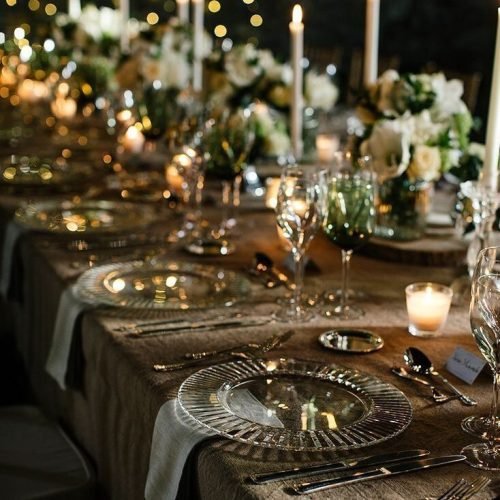 7. Mood lighting
Keep in mind the time of day and plan for lighting accordingly. Evenings can be romantic with hanging bulbs or twinkling LED lights inside lanterns. Candles are another great element to add to your table, especially for the evening, as mood lighting is very essential to bring about the ambience.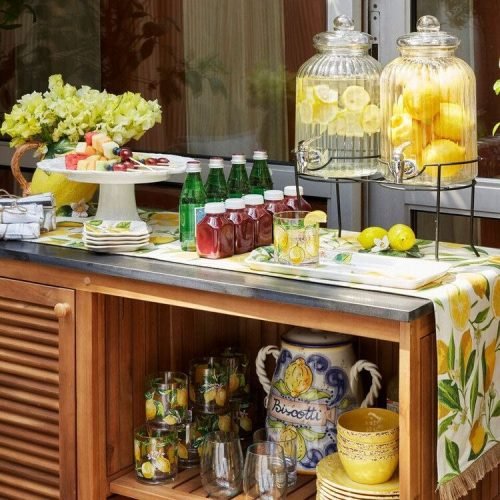 8. Drink Station
Entertaining in the summer is incomplete without a drink station. To set up a quick one, have a few self-pouring jars, and prepare summer mocktails or cocktails and have them ready to pour. Especially if you are having a more casual setup, prepare some fruit-flavoured water, and some other refreshing drinks to quench that summer thirst. 
9. Use edible décor
Create a table that heightens all senses with this tip. Edible decor not only looks but if used appropriately can taste and smell good too. Creating a running charcuterie centrepiece with greens and some edible fruit can be a very interesting way to put together a tablescape. Tropical and citrus fruits, even bananas and pomegranates along with nuts seeds and herbs can be used to create a simple yet gorgeous table. 
10. Make the garland
A running green garland, which can also be faux, brings about a more continuous display. For a more formal setup, a running garland can be layered with fresh flowers, edible fruits, lanterns, candles and twinkling lights. These are just some of the elements that can be used to accentuate the green garland, feel free to add anything that plays along, no rules here. However, when using a garland as a centrepiece, keep in mind to leave some pockets of space to place the food once served.
Tables are all about food, people and conversations, and what better way to make them memorable, but by adding in some wonderful decor. Tables are a place to be experimental, with often things available easily in our surroundings. It's often not what you use, but how you use it in your setting, that really makes all the difference. Take some fresh foliage or flower cuttings from the garden, add some simple props like candles, fruits and nuts, and create the most romantic settings for that summer brunch or dinner. Often we have everything we need at home, and a few layers of personalization can add that welcoming touch. So go ahead, and make use of all that is available in your surroundings and set the tablescape the effortless way.