The evolution in office design in the last decade can largely be attributed to technological advancement. In the early 2000s, there was a significant shift from traditional cubicle-style offices to embrace a more open-plan layout. While collaborative spaces were at the heart of this development, quiet areas and solo working spaces became all the more important. Since, an office is the second most important space, considering an average working individual spends the maximum time in their workspace, after their home, hence office design needs to be human-centred and carefully driven by its user. 
Workspaces are considered and designed from a very different perspective after Covid-19. From a mere space to come and work in, offices are now believed to be a space for synergies that foster teamwork, build relations and imbibe the company ethos. Working from home became the new normal during the pandemic. There was a sudden surge of people who did not want to return back to offices, which then led to the Great Resignation.  The concept of working from home gave them flexibility in terms of hours, saved travel time and allowed them to work in different positions at the same time.  
The companies in the tech sector, have been specifically a supporter of the work-as-lifestyle spaces, where the lines of work and play are quite faded. These kinds of offices are recognised by grown-up jungle gyms, movie theatres, game rooms, and many such entertainment avenues. While this specific type may have its own advantages, it definitely comes with its own set of shortcomings. With a collaborative playground, comes the challenge of dealing with distractions. Corporates want to provide their employees a space to work and enjoy seamlessly, there is often the challenge faced where focused work seems to not happen. Companies such as Steelcase, Hayworth and Vitra have known brands in the office segment, and specifically have come up with solutions for isolated focused work. While too much information and stimuli might feel invigorating to some, it may be a bit overwhelming to others. 
Workspaces have seen a movement from the classic traditional shapes and forms to more organic style spaces. There has been a transition towards more vibrant and fun-looking spaces that allow for work to feel more like play. Some of the trends that have been popular and are being adopted in the newer spaces are briefly explained: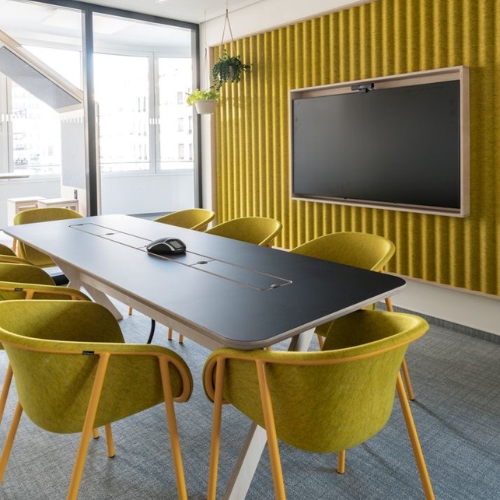 A play of colour
Colour has proven to play a very crucial role in uplifting the mood. It is believed to improve employee productivity and efficiency and create a better work environment. Brands can often use their signature colours as a starting point for the colours they would like to introduce into their spaces. In addition, colour blocking and colour theory techniques can be used in spaces to bring out certain emotions. A well-curated colour palette chosen for any work environment allows for better productivity, and general well-being and is an overall mood uplifter.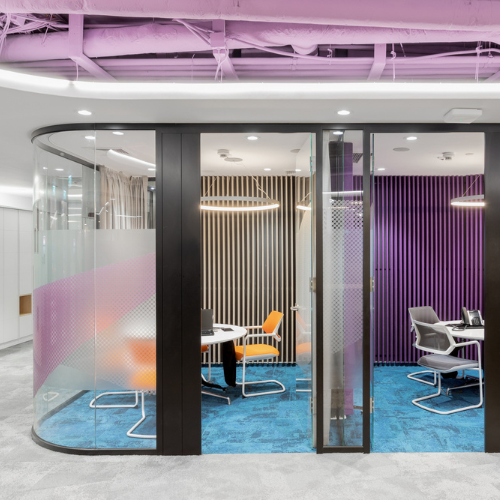 Organic curves
While there is a shift from ruler-straight, sharp-edged interiors, to more soft-edged, rounded and curvy outlines. A trend that can be seen in all forms of design, be it interiors, residential or commercial, it allows for spaces and furniture to be more free-flowing. While curved edges give spaces a more seamless and continuous look, they lead to lower efficiency and often have reduced ready solutions in terms of furniture and materials. With reduced occupancy rates in offices post covid, curved interiors are becoming a preferred option.
A dynamic office layout 
A dynamic office layout is one that is based on the idea of flexibility. The ability of a space to be transformed to serve different requirements from time to time is at the very core of this design philosophy. Companies want to create an environment which encourages teamwork. They prefer a more dynamic and flexible office layout that allows for collaborative work.  The typical cubicles and partition walls are bygones while adjustable and multipurpose working solutions are really the need of the hour.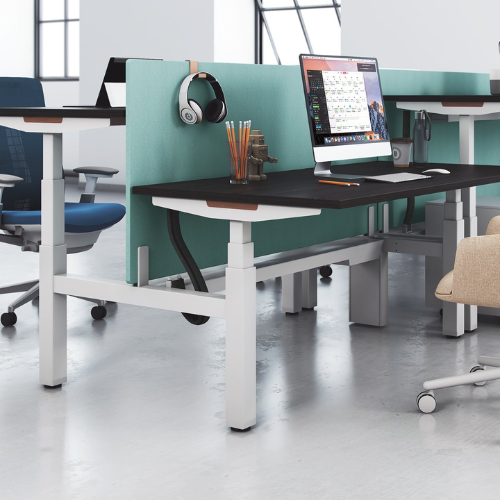 Adjustable height furniture
Sitting for hours in the same position hampers not only the posture but also the overall health of an individual.  Employees and companies are looking to improve health and safety standards, and hence opt for height adjustable and standing working tables.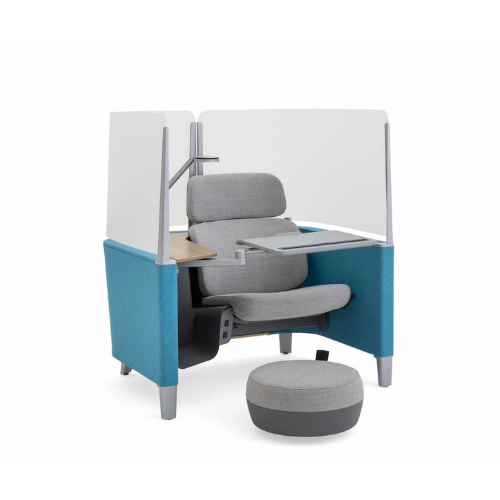 Enclosed Work Systems 
Distraction is the biggest drawback of the workspace lifestyle, and hence the requirement for quiet working zones and isolated working spaces. Here comes into play the concept of working pods and quiet enclosures. A great example of this is the Brody, a work lounge to encourage high performance while reducing distraction and unnecessary surrounding noise.
Creating the Home Away from Home
The shift to working from home has led corporations to rethink their office spaces. From being very structured, with more straight lines and typical office-style furniture, to making them more lounge-like to feel like home. Using more decorative accents such as graphical walls, curated fun artwork, and more residential-style furniture, are just some of the elements driven to create a home away from home vibe.
Contactless Technology
With Covid-19, there was an increased demand to make workspaces hygienic and sustainable. Technology being used for a more safe environment for employees is really of utmost importance for corporations. From contactless scanners to facial recognition, and even sensors everywhere, offices are looking at being as contactless and infection free as possible. 
While collaborative spaces take centre stage, the importance of accommodating individual work styles and preferences has become evident. Recognizing that the office is a significant space in an individual's life, it is crucial to prioritise human-centred design principles, ensuring that the workspace is conducive to productivity, well-being, and a positive user experience. By embracing technology, flexibility, and a holistic approach, organisations can create environments that inspire and empower their workforce.