Spatial design is a multidisciplinary field that involves the creation and arrangement of human spaces and environments. It goes beyond the conventional boundaries of architecture, landscape design, and interior design, encompassing a more holistic and intimate approach. The primary focus of spatial design is not merely the aesthetics or appearance of a space, but rather its ability to evoke emotions and establish specific moods. In the realm of spatial design, careful consideration is given to how a space would make individuals feel when they occupy it. It surpasses the visual appeal and delves into the realm of sensory experience. Designers aim to create spaces that align with a person's taste, preferences, and intended use of the area. Understanding the client's desires and requirements is crucial for spatial designers as they strive to craft spaces that cater to these specific needs. 
Spatial planning not only involves designing spaces to avoid clutter but also organising them effectively. Designers play a crucial role in carefully planning every aspect of a space, ensuring that each object finds its rightful place. This approach creates a sense of order and functionality within the design. It is the thoughtful and careful melange of materiality and pattern that creates beautiful layers of colour, texture and pattern. To truly comprehend the intricacies of spatial design, it is necessary to examine the different layers of the design process and how they interact with one another. Each layer, akin to the components of a French pastry, is integral to composing the overall taste, texture, and complexity of the design. Understanding the relationship between these layers allows designers to craft harmonious and well-balanced spaces.
The treatment of walls holds significant importance as they are the largest component in any given space. There exists a wide range of options to consider when it comes to wall treatment, such as wall coverings, wall panels, and paint. Both wallpaper and paint offer numerous choices in terms of finishes and materials. Selecting the appropriate finish and material for a particular space is crucial to ensure its longevity and visual appeal in the future.
Wallpaper can be produced using various techniques, ranging from handmade to hand-woven. It is essential to consider how the chosen wallpaper will interact with the walls it will be installed on and the overall space. Additionally, one should take into account any potential challenges that may arise during the installation process. Understanding whether the wallpaper is hand-painted or machine-made is important, and opting for something exquisite like hand-painted wallpaper can be a wise choice.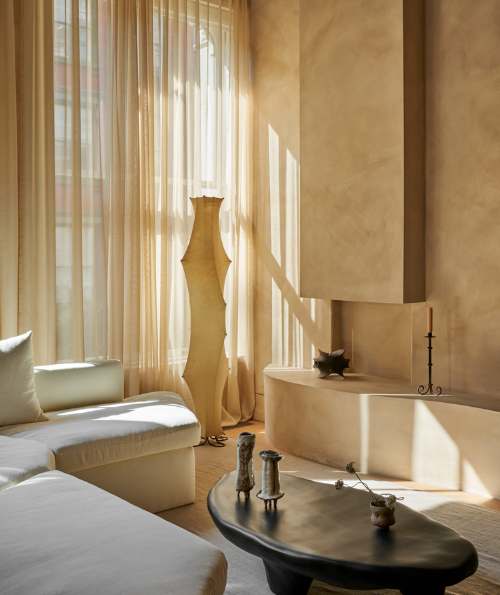 A great decorator thinks of space as a whole and the juxtaposition of the several elements that imbibe it. While most decorators may take the floor for granted and layer that on with a rug, professional decorators truly consider the floor as an aspect that distinguishes the character and personality of a space. Natural materials and textures are crucial in creating a luxurious ambience within a space. These materials are often prized for their rarity and higher cost, adding an exquisite touch to the overall aesthetic. When selecting the appropriate flooring material, it is important to take into account the colour as well. A very dark colour can make a space look smaller while a lighter shade can make the space look bigger. However, this does not imply that dark floors should not be used, instead dark floors can add a very sensual and plush vibe to a space, but they must be used keeping in mind all the other elements of the space. Nothing feels more serene and luxurious than walking on a natural material.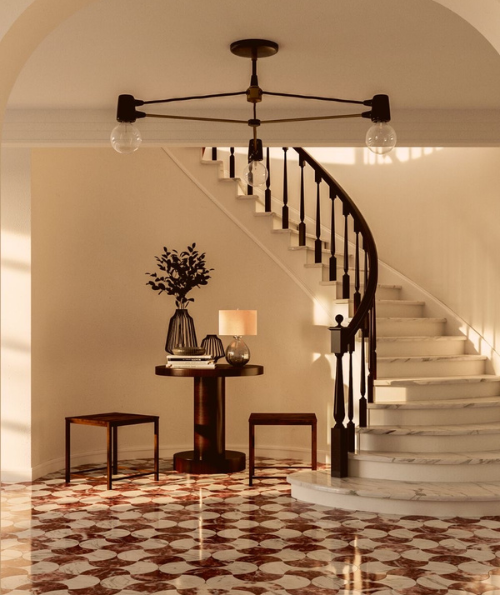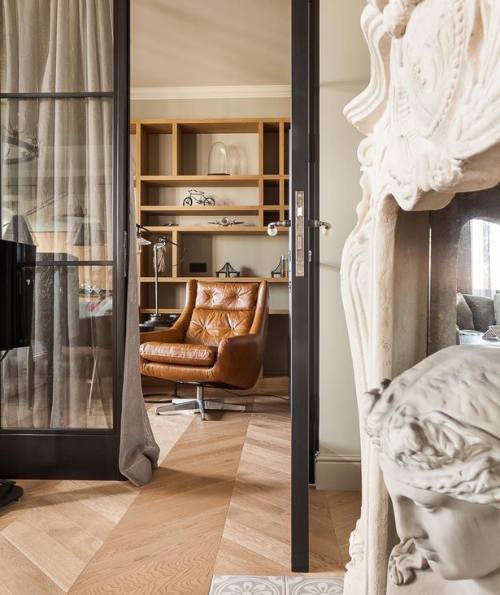 While the wall and floor are the foundation elements of a home, furniture breathes life into a space. Great furniture choices help us live well in space, choosing the correct style is of utmost importance in bringing life to a space. Furniture that is factory produced, in large quantities, lacks vivacity and character. The ideal scenario is to go for bespoke furniture or something that is specifically designed for the space, keeping proportion and sizes in mind. Another alternative to this option is to buy antique or second-hand furniture that is well made by hand using great quality materials. Furniture often requires little maintenance from time to time, however investing in antiques and good quality second-hand furniture is a great proposition, provided you have the right match or fit for your space.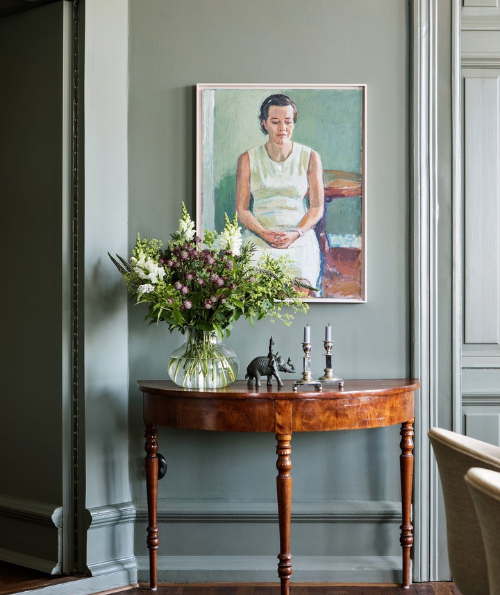 Hardware is a simple yet extremely effective way to elevate spaces and furniture. A well-designed piece of furniture or a door finished with low-quality hardware can end up looking shoddy. Great design takes a lot of planning and is usually not an afterthought. Similarly, hardware must be a very important part of the entire design scheme. Choosing the correct style, material and finish of hardware that suits the aesthetic of a space can make all the difference. When renovating, it might be a good idea to either match or use complementary finishes for the hardware on doors, furniture and even plumbing fittings.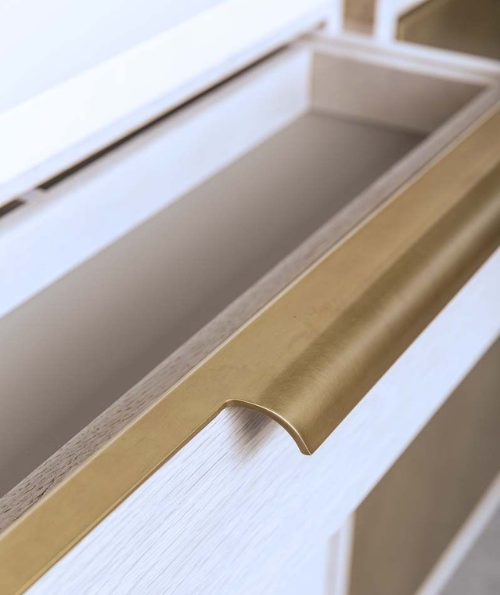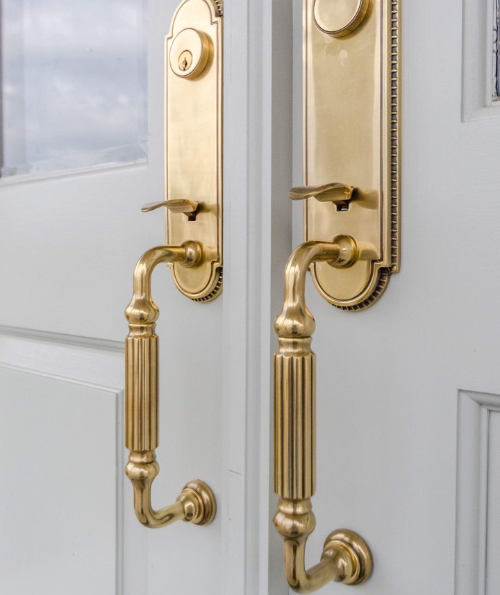 The atmosphere of a space is one of the most intangible forms of decorating and lighting plays a very important role in creating the ambience. Finding the correct equilibrium of utility and beauty through lighting is crucial to the space. Choosing the correct fixtures, placing them in the correct position and using the correct colour temperature and strength are extremely vital to bring out the appropriate outcome.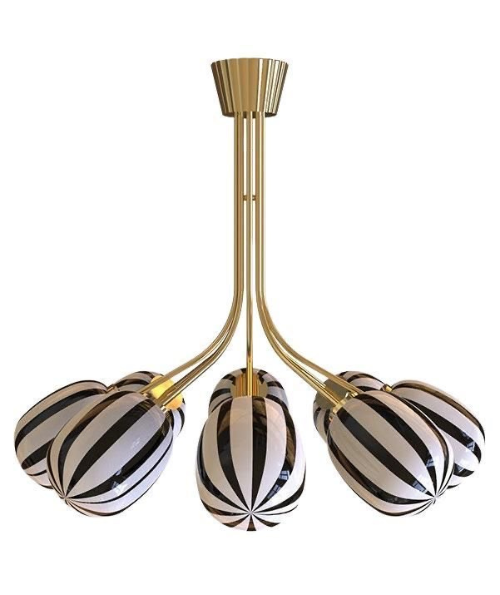 India is a country where handmade and handicraft is in the very culture, from marble artisans of Rajasthan to brass and metal artisans of Moradabad, we are a country rich in craftsmanship, culture and tradition, and that is what gives us flexibility in design and possibility of customisation. Hence, when decorating a home with art and objects, opting for handcrafted objects, is what will set it apart and lend it a truly veritable character. 
While there are many elements of design to be considered in space, these are just some of the more critical ones to delve into when designing a space for yourself. Designing spaces and interior decorating might seem simple and easy at first, though it requires a lot of in-depth understanding and experience in the realm of design. Developing an eye for the exquisite is something that can be developed with experience, exposure and an eagerness to learn. While design is a lot of trial and error, it is also a process, one that requires a lot of steps to adhere to reach the best result. Although a price tag indicates the cost of an item, it does not reflect the amount of time and effort invested by the creator in its making. Therefore, when purchasing something for your home, it is important to take into account not only the price but also the dedication and craftsmanship involved in producing those elements. By considering the effort put into creating the item, you can make more informed decisions about your purchases and get the value of what you are paying for.