Nestled in the heart of the enchanting city of Marrakech, Morocco, Maison Brummell Majorelle stands as a testament to the harmonious blend of art, design, culture, and architectural brilliance. This masterpiece was born from the collaborative vision of New Zealand architect Bergendy Cooke and a dedicated architectural team in Marrakech, led by Amine Abouraoui. It was conceptualized to be the brainchild of Austrian hotelier Christian Schallert, who envisioned a haven for his friends, family, and wanderlust-driven travellers.
The architectural wonder that Maison Brummell Majorelle is a perfect marriage of contemporary design concepts and traditional Moroccan elements. Drawing inspiration from the ancient rampart walls of the Marrakech Medina, the building's sculptural form pays homage to the city's rich architectural heritage. However, it purposefully avoids replication, offering a fresh and playful reinterpretation of Arabic architectural elements through foreign eyes.
One of the defining features of the building's exterior is the use of Tadlelakt, a hand-polished plaster that comes in varying shades, creating a captivating interplay of textures and colours against the backdrop of the rough Pisé exterior finish. Terrazzo, in shades of grey and pink, is another material that finds extensive use both indoors and outdoors, serving as a unifying element that defines spaces and adds a touch of opulence. Bejmat handmade tiles adorn the lower public spaces, extending seamlessly to the terrace, enhancing the fluid transition between indoor and outdoor areas.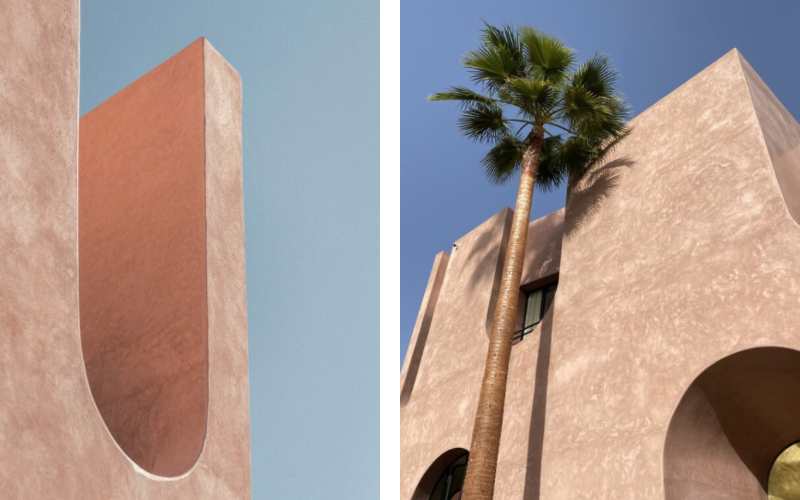 Maison Brummell Majorelle isn't just a place to lay one's head; it's a living gallery of art and design. As you step inside, you're greeted by an array of artworks from diverse artists, including the captivating photography of Barcelona's Maite Carames and the evocative creations of Swedish artist Per Henrik Adolfsson. The lobby itself is adorned with a large painting by Soufiane Zarib, creating an immersive artistic experience for guests. The interior design of the hotel is a celebration of modern aesthetics, seamlessly integrating high-end design with bespoke furniture and impeccable finishing. Guests will discover iconic design classics such as the Egon Eierman chairs and Ingo Maurer's paper lamp gracing the interiors. However, what truly sets Maison Brummell Majorelle apart is its dedication to local craftsmanship. Local artisans skillfully transformed the designs of brass lamps and tables, wooden bed bases, and bedside tables created by Bergendy Cooke into tangible works of art. Handcrafted wood and brass furniture from the esteemed local producer Maison Nicole adorn all rooms, while suspension lamps by Italian artisans Vesoi and faucets and taps by the renowned Italian brand Neve reflect the hotel's commitment to excellence.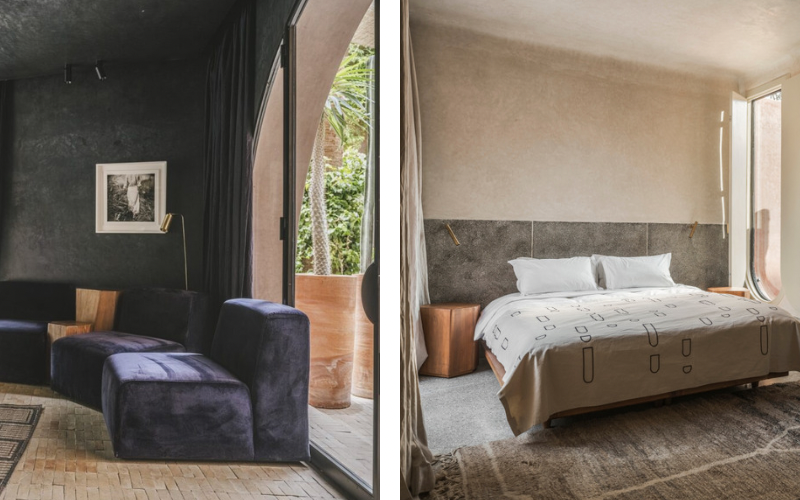 While Maison Brummell Majorelle showcases Moroccan art and design, it goes beyond aesthetics, offering guests a unique opportunity to immerse themselves in the rich local culture. The hotel's location, nestled parallel to Rue Yves Saint Laurent and overlooking the famed Majorelle Gardens, places it in the very heart of Marrakech's cultural tapestry. The neighbourhood, quiet and surrounded by lush residential villas, provides an ideal backdrop for exploration. Guests can discover a treasure trove of shopping options, including Brummell's friend's stunning shop and restaurant called Moro, the curated store 33 Rue Majorelle, and Heritage Berber.
The Majorelle district serves as a bridge between the "nouveau" village of Gueliz, known for its exceptional restaurants and stores, and the bustling Medina (Jemaa el Fna), which is just a 10-minute taxi ride away. Maison Brummell Majorelle beckons guests to indulge in rooms designed for ultimate tranquillity and luxury. The Garden Deluxe, a spacious and exclusive 30 sqm room boasts a private garden complete with an outdoor bathtub and sun loungers, offering a retreat within a lush oasis. The Majorelle Superior, cosy and comfortable at 24 sqm, is designed for nesting and unwinding, with a private outdoor deck perfect for relaxation after experiencing the hotel's traditional hammam.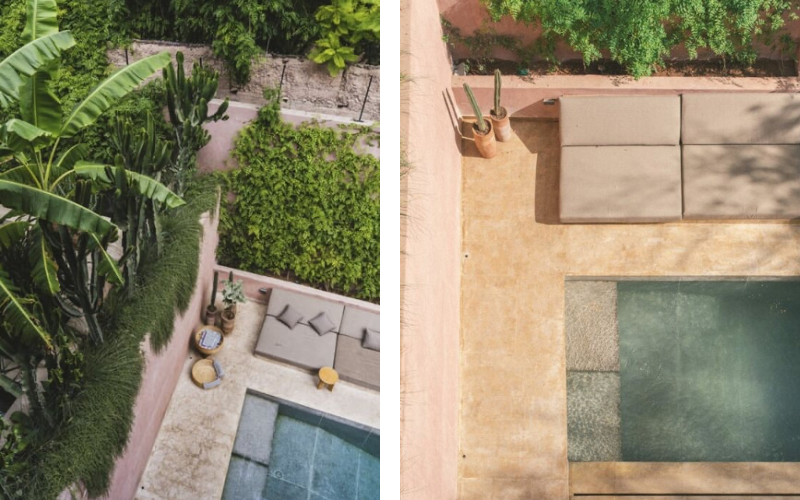 The culinary journey at Maison Brummell Majorelle is nothing short of a gastronomic adventure. Guests can awaken their senses with a homemade seated breakfast buffet, featuring a delightful array of typical Moroccan breads, seasonal fruits, and Moroccan mint tea. For dinner, the hotel's chef stands ready to prepare traditional dishes, offering a delectable taste of authentic Moroccan cuisine. Throughout the day, an honest self-serving snack bar ensures that culinary delights are always within reach, allowing guests to savour the flavours of Morocco at their leisure.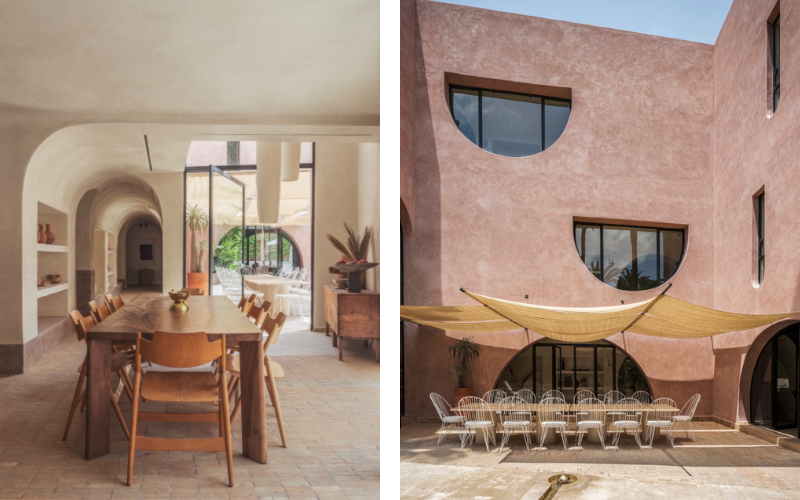 Maison Brummell Majorelle is part of Brummell Projects, a hospitality company led by Christian Schallert. The company's portfolio includes boutique hotels like Hotel Brummell in Barcelona, Mas Sant Marc in the Pyrenees, and the soon-to-open Riad Brummell in Marrakech. Brummell Projects introduces a new concept of casual luxury, prioritizing attention to detail, creativity, and impeccable service. 
Maison Brummell Majorelle transcends the boundaries of a typical luxury boutique hotel, emerging as a living masterpiece that seamlessly weaves together art, design, culture, and architectural brilliance. It serves as a sanctuary where guests can immerse themselves in Morocco's rich cultural heritage while indulging in the highest standards of comfort and luxury. 
With its stunning architecture that pays homage to tradition while embracing modernity.
All images are courtesy of Maison Brummell Majorelle