Chef Tejasvi's profound connection to her Indian heritage infuses a distinctive and almost lyrical quality into the realm of Indian pastries. Her culinary journey commenced within the cosy confines of her childhood home kitchen, where she absorbed the cherished secrets of traditional Rajasthani cuisine and confectionery. With time, Tejasvi meticulously refined her craft through professional education and creative experimentation, seamlessly blending the rich flavours and techniques of Indian mithai with the finesse of traditional French patisserie.
Her unwavering dedication to innovation and her infectious enthusiasm have continued to captivate palates, establishing her as a notable figure in the culinary arts. Chef Tejasvi's 'India X Modern' pastry creations transcend the boundaries of traditional culinary arts, merging seamlessly with elements of art and design. In this exclusive interview, Foyer delves deep into the inspiring narrative of Chef Tejasvi Chandela, from her humble beginnings in founding the boutique patisserie, 'D'zurt,' nestled in Jaipur's Pink City, to her prestigious accolades such as La Liste recognition, and her memorable journey in the world of reality television.
Chef Tejasvi's path is not just inspiring but also promises exciting new ideas and projects yet to be revealed, making her a beacon of inspiration for countless individuals, including ourselves.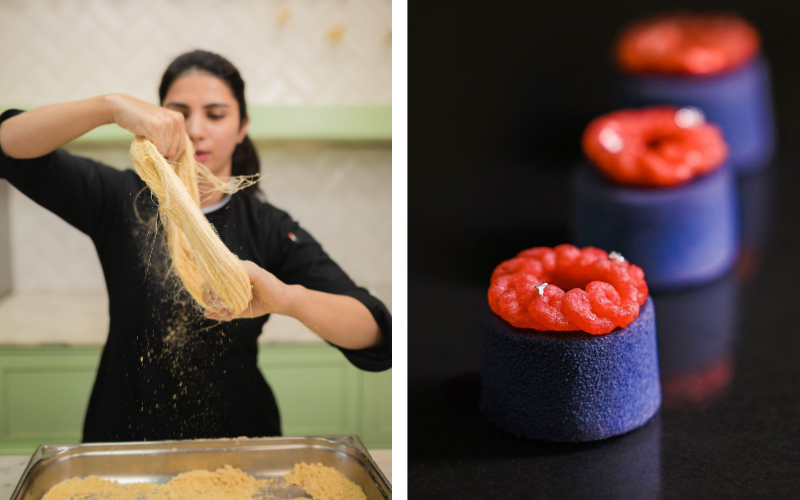 FOYER: Congratulations on being awarded Pastry Talent of the Year 2023 by La Liste and now the Conde Nast, Young Pastry Chef of the Year. What led you to become a chef, and more specifically a pastry chef? 
Tejasvi Chandela: From a young age, I have always been inclined to cook and bake. To be honest, academics weren't my strength, but receiving recognition at home for my cooking skills motivated me to believe that maybe I had a knack for something else. Additionally, being acknowledged at home served as motivation for me to pursue my career in the culinary arts. My father has experience in hospitality and tourism and owns a Rajasthani food restaurant called Spice Court. Although I never really chose between cuisine and pastry, when I made my decision to pursue it professionally, pastry seemed like the right choice. Personally speaking, working in a pastry kitchen brings me joy, it's almost therapeutic. The production is mostly pre-done, and one can work at their own pace. Unlike a cuisine kitchen where there is always pressure to deliver under stressful time constraints. 
Additionally, I gained some knowledge of business management during my time at Royal Holloway, University of London. After completing my program at Le Cordon Bleu, Paris, I decided to join a five-star hotel chain. However, I realized that it would take me years to advance and have a meaningful impact within the organization. At 22, I took the leap of faith and promptly opened D'Zurt. It's been 10 years now and we are up and running and still one of the most popular patisseries in Jaipur 
F:  Can you describe your creative process when it comes to designing pastry creations? How do you incorporate design elements, such as colour, texture, and presentation into your pastry creations?
TC: So my creative process is a bit more traditional, and I prefer using pen and paper. I sketch out my ideas and then bring them to life. As a pastry chef, I break down the recipe for myself, striving for precision. After practising it, I consider which flavours would complement it and decide on an appropriate European pastry technique to pair it with. In my mind, I envision its colours, including contrasting shades, as well as the various layers of textures that will be incorporated with it.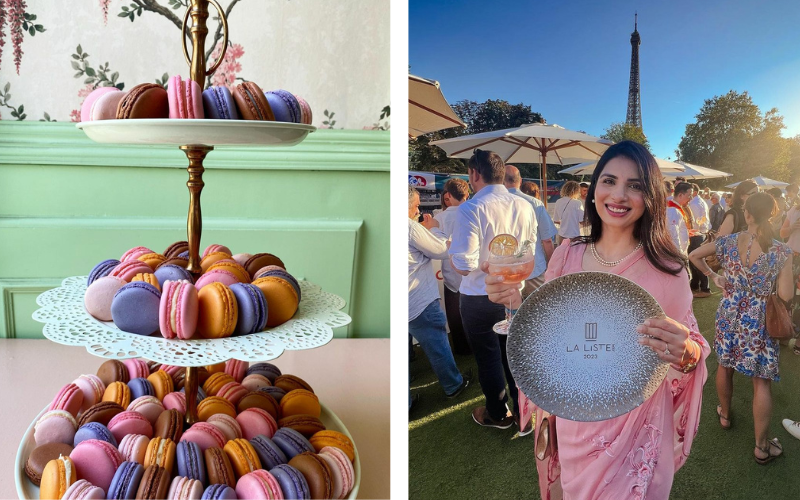 F: What role does innovation play in your pastry designs? How do you push boundaries and think outside the box in your creative process?
TC: So, I did my master's in chocolate making from a school called EPGB in Barcelona. This was right after I had my daughter. While Le Cordon Bleu taught me a lot of classic French pastries. EPGB opened up my perspective towards pastry making in a modern way. I am grateful for the exposure I had to skilled chefs, from various backgrounds, who taught me so much. I could sense that I was evolving as a pastry chef into modern pastry in a big way, and of course into chocolate making, which was a completely new experience for me. This evolution made me realize that I could run an opera while adding twists that reflected my unique style.
F: How do you maintain a harmonious balance between the visual aesthetics and the flavours in your pastry designs?
TC: As much as I love experimenting, I think running a patisserie is also a business. So while we keep about 30% experimental stuff on our menu, 50 % would still be what my audience likes. I enjoy experimenting with signature-style boxes as a chef, but I also need to consider practicality when running my patisserie. It's important to make popular options that people crave and want, like layered cakes. Additionally, I keep educating people and getting them to try new things. As a chef, you like the experimental zone, but you also want to give them something comforting.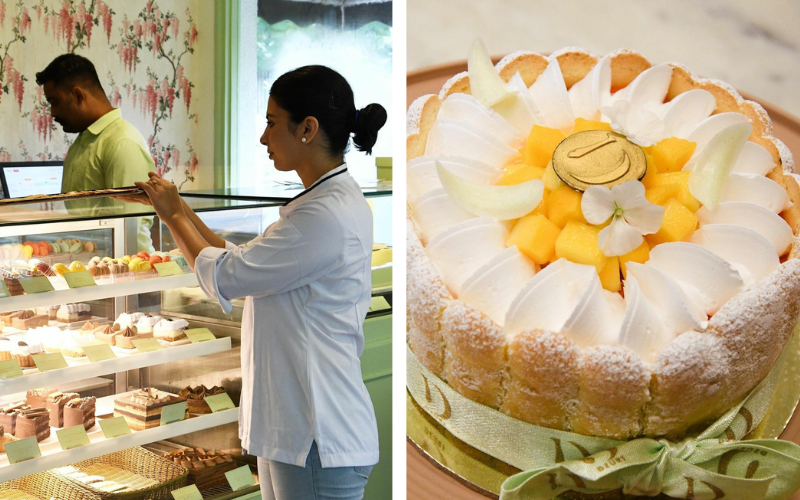 F: Can you describe a memorable project, where you had to think spontaneously and design on the spot, and how did you handle it?
TC: So one of the most challenging projects that I had to execute, would be Rajmata of Jaipur's milestone birthday, it was a significant celebration. The event took place at the City Palace and attracted esteemed guests from both national and international backgrounds. I was approached to design an extravagant dessert bar consisting of fifty varieties of desserts. 
The time constraint was tight and my kitchen wasn't equipped to handle such a large order. We hadn't done catering until then. So with my team of just six people, working overnight for three days straight, we managed to complete everything from a croquembouche to a macaron tower and much more. We successfully designed an exquisite dessert bar, which is by far the most beautiful creation I have ever made. It was not just about making these desserts, but also figuring out the logistics, and how we would send and place all these items there. The whole execution of it was extremely challenging, yet very fulfilling.
F: How did you go about co-founding All Things Chocolate? And can you tell us a bit about it? 
TC: Sure. So, my business partner, Kuhu Kochchar, is a design student specializing in graphic design. We have been friends since school, and she approached me with an exciting idea for unique packaging designs. While brainstorming, we conceptualized the idea of introducing chocolate bars that drew inspiration from various moods and experiences. For instance, All Things Monday is created with a striped blue and white box resembling a shirt. It includes a to-do list where you can jot down a personalized message for your friend who may be experiencing Monday Blues. On Mondays people usually want to focus on their health due to the indulgences of the weekend, so we made a dark chocolate-infused granola bar. 
I knew a little about chocolate, but it was at this time that I decided to pursue my master's in chocolate making in Barcelona. When I came back, I was determined to source chocolate beans only from India. We had started with a 5kg coning machine and now we have a 35 kg coning machine. It started with a room above in my mother's house, to a three-floor factory and it's been a seven-year journey with All Things. 
F: Have you worked with fellow artists or designers to craft distinctive pastry creations?
TC: No, I haven't. But it is on my mind and I am looking to collaborate with Halwais. I want to promote the Halwais of India. People have no idea how intricate our pastry is. Even as an Indian, I spent years chasing pastries outside before discovering the art within our own country. As a patisserie chef, you tend to hit a roadblock, where you feel you aren't creating anything new. I wanted to explore what is out there that I have yet to learn. Growing up in Bikaner, known for its Mithais and Bujjias, fuels my passion for food. I expressed my desire to make a documentary and envisioned myself as someone who brings Indian cuisine to the world stage.
Little did I know that my journey to discover the intricacies of Indian mithai would lead me to become a chef one day. Every experience leaves some sort of mark in our lives, and I think I want to promote the halwais of India by collaborating with them and am working hard to make it happen. Other than that, we have done several collaborations in All Things with brands such as Hoegarden, Bira and many more.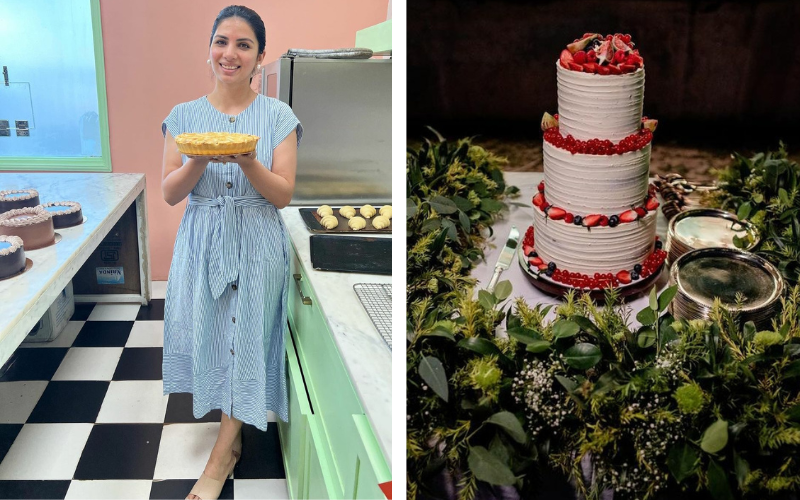 F: How do you get these unique ideas and inspiration, is it from the things around you or how does the process work for you? 
TC: I often get asked this question by many people, and sometimes I find it challenging to provide a clear answer or identify one specific thing. However, I do feel inspiration is everywhere, and it's not just limited to one source. I always feel the need to pen things down, so when I do get an idea, I note it down immediately. This notebook has become my go-to source whenever I am looking to create something new. There are instances when I wake up in the middle of the night with an idea that I am eager to pursue. On a rainy day, while sitting outdoors, I may get an idea and I note it down right away. Jaipur, the city I live in, is a constant source of inspiration, every corner has a story to tell. I don't have to go too far, looking for inspiration, it naturally surrounds me in my daily life. 
F: Could you elaborate on how your experiences from international travels and training have influenced your approach to pastry making in the context of India?
TC: I think the biggest takeaway from my experiences of studying and training abroad, would be the friends I have made. For instance, I have a Brazilian friend, which led me to travel to Brazil. This further made me delve into Brazilian cuisine and culture. The very diverse mix of cultures from across the world has broadened my perspective beyond Europe. These experiences have truly made a significant impact on my life as it has opened my eyes to things I didn't even know existed when I was in India. 
F: We especially admire your Indian X Modern patisserie, can you tell us a bit more about it, and what led you to go about experimenting with Indian flavours with French patisserie techniques? 
TC: It all began when I was invited to teach a master class at the EPGB. However, rather than selecting a European recipe for the class, I decided to choose one of our Indian mithai desserts as the foundation of my teaching. The intricacy and level of difficulty involved in creating Indian mithai are truly remarkable. My true passion lies in really merging these traditional sweets with European pastries by incorporating unique combinations of flavours inspired by both culinary traditions. 
So for instance, the Lamington Pistachio Soan Papri, Clementine Ghevar Petit Gateau, or even the Jamun and Imarti Petit Gateau, are all creations of the India Modern series. To understand the complete making process, I visit Mithai shops and observe. However, it is important to note that Mithai shops don't have a fixed portioned recipe. As a pastry chef, precision plays a critical role. Therefore, my approach involves breaking down the recipe and determining precise measurements for each ingredient. Additionally, I focus on finding the right texture or flavour combinations to enhance each pastry creation. 
F: Are there any renowned chefs or artists/your contemporaries who serve as a source of inspiration for your work and why? 
TC: I don't think I have taken inspiration in terms of my menu curation. But I inspired some with the way they run their business. For instance, Chef Vinesh Johnny, who is the head chef and co-founder of Lavonne Academy in Bangalore, is truly inspirational. Unlike other schools that focus on basic cupcake and brownie workshops, Chef Vinesh Johnny and his team expose their students to a wide range of techniques and allow them to think outside the box. Pooja Dhingra is another Chef whom I look up to for her strong passion and business acumen, truly showcasing her creativity in her delicious offerings.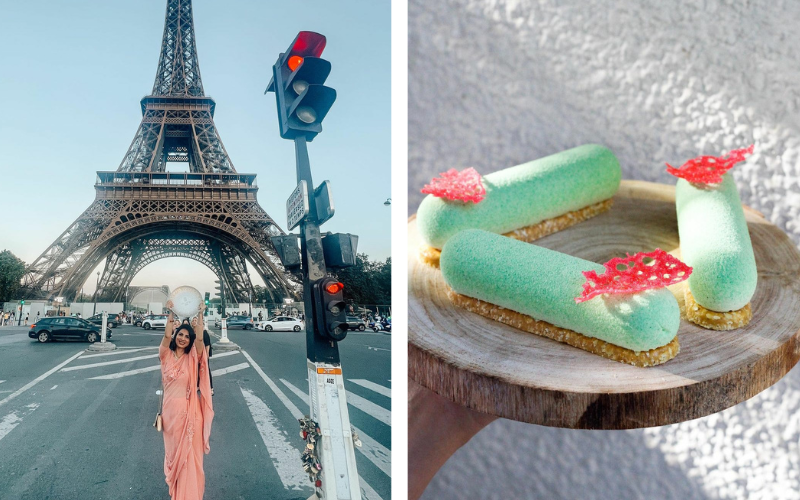 F: How do you craft your masterclasses to ensure an engaging and informative culinary learning experience for your students?
TC: There are two types of master classes: those given in India and those given outside of India. When giving masterclasses outside of India my main focus is India X Modern Pastry as I aim to educate more people about the pastries of India. We have yet to see a similar level of excitement surrounding Indian pastry. Therefore, I am dedicated to incorporating my Indian heritage into modern pastry work to offer something truly unique and awe-inspiring. 
In India, I combine European pastry techniques with elements of traditional Indian flavours and ingredients. It's not just about teaching a recipe or technique, there is much more involved in creating pastries from scratch. I aim to provide people with an understanding of the process behind it all. 
F: Do you have any valuable tips or guidance to offer to individuals aspiring to become pastry chefs?
TC: OK, if you want to be a pastry chef, and would like to make a business out of it, I suggest prioritizing the development of your menu. Ensure that your menu reflects who you are and incorporates your unique style. Once you have the menu sorted, delve into the branding and other related aspects, and not the other way around. The second advice would be, to build a solid business, would be to build a strong team. It's crucial to remember that success cannot be achieved alone, and having people who are there for you when you stumble, while you treat them with the same level of care and support, is crucial to any successful business. 
Chef Tejasvi embodies the qualities of a remarkable entrepreneur, showcasing not only her culinary expertise in crafting delectable desserts but also her adept business acumen. Her ability to adapt and innovate exemplified through her daring exploration of unique flavours and techniques, underscores her unwavering dedication to perpetual excellence. Her professionalism and unwavering determination to transcend the ordinary, while infusing her distinct touch, reflect an admirable quality that has contributed to her authenticity and success as a social media creator. Chef Tejasvi possesses the attributes of a visionary artist and entrepreneur: an unquenchable thirst for knowledge, a relentless pursuit of uncharted culinary territories, a desire to share the art of Indian mithai globally, and a remarkable aptitude for successful business management – all of this, effortlessly accompanied by her infectious smile.
Image Courtesy: Chef Tejasvi Chandela