India's heritage hotels are like time machines, transporting visitors back in time to experience the grandeur and majesty of the country's rich cultural heritage. These historic buildings have been meticulously restored to their former glory, preserving their architectural heritage and cultural significance for generations to come. 
Rajasthan, known as the "Land of Kings," is home to some of the most exquisite heritage hotels in India. From the sturdy forts of Jodhpur and Jaipur to the opulent palaces of Udaipur and Jaisalmer, these heritage hotels are a testament to the rich architectural heritage of the state. 
Umaid Bhawan Palace, Jodhpur:
Designed by British architect Henry Lancaster, Umaid Bhawan Palace, located in the heart of Jodhpur, is a testament to the city's rich cultural heritage and is considered one of India's most iconic hotels. The palace is a blend of Indo-Saracenic and Art Deco styles, making it an architectural marvel. The building's unique design reflects the influences of different cultures and eras, showcasing a beautiful blend of styles that is both enchanting and captivating. 
One of the most breathtaking aspects of the Umaid Bhawan Palace is undoubtedly the magnificent fresco paintings that adorn its walls and ceilings. These paintings by Polish artist Stefan Norblin, depict Hindu epics in Western Art Deco style. For tourists, the Umaid Bhawan Palace offers a chance to relive a whimsical ancient era, resurrected through the beautiful blend of culture and architecture. The Palace's grand interiors, with their high ceilings, elegant chandeliers, and intricate marble carvings, exude an air of sophistication and glamour.
Rambagh Palace, Jaipur:
An oasis of maximalist serenity, Rambagh Palace was originally built as a hunting lodge for the Maharaja of Jaipur. Constructed from sandstone and marble, the palace is a sumptuous space that weaves the narrative of history and present-day beautifully. The use of bright colours, patterns, and textures straight out of a Wes Anderson film creates a cauldron of vivacious colours, exuding a playful and whimsical appearance that perfectly complements the palace's majestic architecture. The pink and blue hues that adorn the palace's walls are reminiscent of the natural colours of Rajasthan. 
Every nook and cranny of the palace is adorned with intricate details and motifs, with an emphasis on handcrafted marble latticework, Sandstone balustrades, and wood detailing. The palace's walls are decorated with frescoes, and its ceilings are adorned with hand-painted murals, each one telling a story from India's rich cultural heritage. Today, the Rambagh Palace is a hotel that caters to visitors from all over the world, allowing them to experience the grandeur and opulence of Rajasthan's past.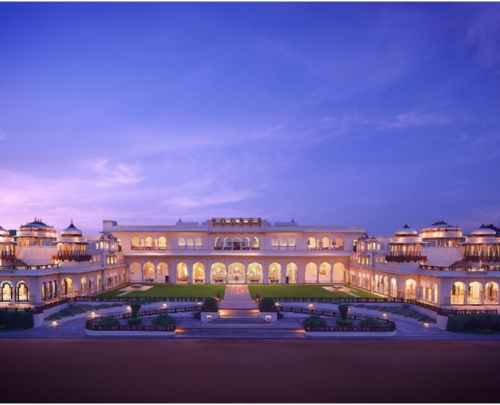 Samode Palace, Jaipur:
Designed by the renowned architect, Vidyadhar Bhattacharya, the Samode Palace stands tall as a splendid masterpiece of Indo-Saracenic architecture. The palace's walls are adorned with exquisite frescoes, depicting scenes from Hindu mythology and the daily lives of the people of Rajasthan. The intricate mirror work and stunning hand-painted motifs showcase the fine artistry and skill of the palace's craftsmen, with every stroke of the brush or chisel creating a masterpiece that is a true reflection of the rich cultural heritage of Rajasthan.
As you approach the palace's facade, you are greeted with a beautiful blend of Rajasthani and Mughal architecture. The grand arches and domes of the palace's entrance add to its splendour, inviting visitors to step inside and experience its grandeur for themselves. The palace's interior is a feast for the senses, with its splashes of pink and blue amidst the rich colours of its intricate design adding a touch of whimsy and playfulness to its majestic beauty.
Suryagarh, Jaisalmer:
Suryagarh Palace was designed by the renowned architect Nitin Kohli, who has infused a perfect blend of traditional and contemporary styles to create a truly unique structure that captures the imagination and heart of anyone who beholds it. The palace stands tall and proud against the horizon, its golden walls shimmering in the sunlight, beckoning you to enter and discover the secrets within. It is as if you have stumbled upon a golden paradise, a place of wonder and magic that transcends time and space.
Taking inspiration from the magnificent forts and palaces of Rajasthan and incorporating elements of Mughal, Rajput, and Persian styles to create a stunning amalgamation of design elements. The result is a structure that is both timeless and contemporary. The palace is designed in such a way that it allows for a constant interplay of light and shadow, creating a magical atmosphere that is both soothing and mesmerising. The palace is a perfect blend of form and function, where every design element has a purpose and a meaning.
Neemrana Fort Palace, Alwar:
Nestled amidst the rugged terrain of the Aravalli mountain range, the Neemrana Fort Palace stands tall and proud as a testament to the rich cultural heritage and opulence of Rajasthan. Built in the 15th century, this magnificent palace was restored and converted into a heritage hotel in the 1990s by the renowned architect Aman Nath, who has preserved its grandeur and beauty for generations to come. The architecture of the Neemrana Fort Palace is a perfect blend of traditional Rajasthani and Mughal styles. Constructed in layers, the palace is constructed entirely of local materials, such as sandstone and lime, which give it a rustic yet elegant charm.
The palace is built in a stepped design, with each level offering stunning views of the surrounding landscape. One of the most striking features of the Neemrana Fort Palace is its sprawling terrace, which offers breathtaking views of the surrounding landscape. The terrace is designed to resemble a traditional Rajasthani courtyard, with ornate columns, arches, and jharokhas (overhanging balconies) that offer a glimpse into the opulence and grandeur of the palace.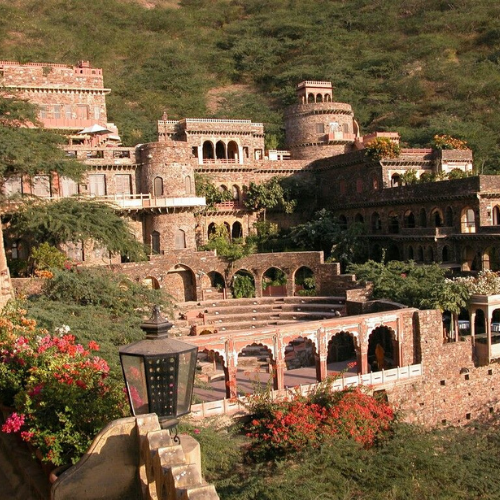 Devi Garh, Udaipur:
Originally built in the 18th century, Devi Garh, a magnificent palace was restored and converted into a luxury hotel in the late 1990s by a team of architects and designers led by Delhi-based interior designer, Mr. Nimish Patel. The architecture of Devi Garh is a harmonious blend of traditional Rajasthani and contemporary styles. The palace is constructed entirely of locally-sourced marble, giving it an ethereal and serene appearance. Moreover, the use of white marble also reflects abundant natural light, creating a calming and peaceful ambience. The suites are all adorned with handcrafted furniture, antique artefacts, and modern amenities, creating an ambience that is both elegant and homely.
One of the most striking features of Devi Garh is the Sheesh Mahal, a stunning hall of mirrors that is nothing short of breathtaking. The hall is decorated with thousands of tiny mirrors that reflect light in myriad directions, creating a dazzling display of colour and light. Devi Garh is a true masterpiece of architecture, a stunning example of the rich cultural heritage and contemporary luxury that Rajasthan has to offer.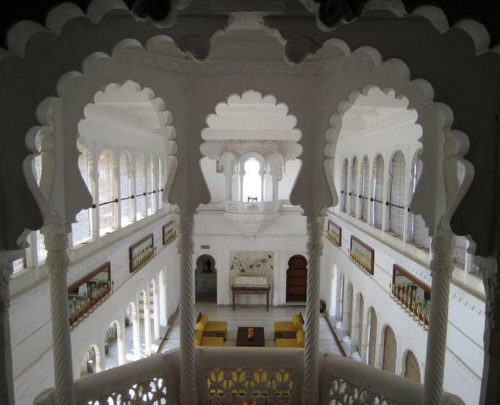 Heritage hotels have become a significant part of India's tourism industry, offering travellers a unique glimpse into the country's rich history and culture. With their architectural grandeur, cultural significance, and impeccable hospitality, heritage hotels in Rajasthan and beyond are poised to remain an essential part of the Indian hospitality landscape for years to come.