Tucked away inside the sprawling heart of Ranjit Avenue, Grain by Elgin is a beautiful marriage of grounded materiality and discernible serenity whilst the monochrome sensibility makes for an eternal muse. A capacious 5,000 square feet space, Grain has been conceptualised by Sanjay and Sanchit Arora of Renesa Architecture Design Interiors Studio in Amritsar, Punjab. Elgin's newest enterprise, Grain brings an international coffee house's feel within the reach of patrons. A laid-back and multi-functional space, the space is dipped in hues of neutral colours with a warm wooden décor offering a decorous space for people to enjoy wholesome brunches and some artisanal coffee.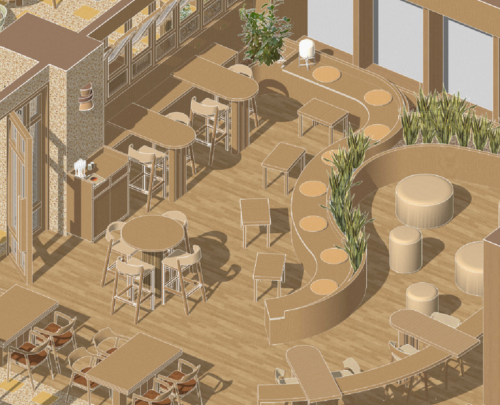 Minutes away from the iconic Golden Temple, Grain is a space that allows for relaxation amidst the hustle and bustle of daily life. 'Almost unpretentious, bare yet far from austere' is the best way to capture the essence of Grain. A round-the-clock space which strikes the perfect equilibrium between work and rejuvenation, Grain is people's escape to get their morning cuppa through to the last beverage which goes on till the wee hours of the night! Taking inspiration from Japandi style design, Grain's spatial identity is soused with clean lines, modern silhouettes, functional elements, and natural materiality whilst the space remains an organic extension of the subcontinent.
As Amritsar's choicest café, Grain is synonymous with an inviting ambience, delectable brews, sumptuous meals, and an inherent sense of warmth. The carefully curated space would be tough competition for a whimsical hole-in-the-wall java shop tucked away in New York City. The deliberate selection of materials created a curated palette that gives the space a consistent and continuous monochromatic identity. This allows the visual elements to engage with the space as a unified entity, ensuring that the experiential value of the atmosphere takes centre stage.
Imagine the warm, brownish tone and rich aroma that emanates from coffee beans when they are steeped in water. The process of steeping is slow, mindful, and liberating in its essence. By immersing oneself in this therapeutic phenomenon and paying homage to the artisanal brewing methods practised at the location, a hazel brown shade fills the space, enveloping everything it touches. The flooring, consisting of a dynamic chequered pattern crafted from burnished ochre Jaisalmer stone and modest greige terrazzo, adds a raw and nostalgic quality to the expansive area.
Coffee drinking is an experience; a pivotal part of a coffee connoisseur's daily routine. Keeping that in mind, Grain has thoughtfully mastered the coffee-drinking experience through this vast space. Pieced together by placing an overarching perception of its ambience at its nucleus, Grain is a space devoid of any obstructions. With its open layout, Grain expresses itself in an uninterrupted language of curves and lines, which makes for a crisp and precise look. Preserving the quintessential touch that Elgin Hospitality has to offer, Grain takes it a step ahead with its ingenious culinary delicacies in addition to its wholesome brews. Each item being offered here is packed with handpicked, fresh and flavoursome ingredients.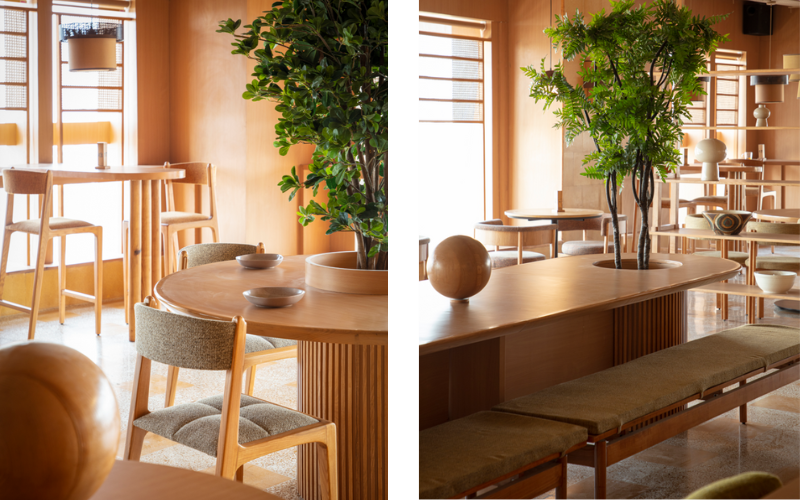 With a capacity to accommodate approximately 120 customers at a time, the carefully designed layout of Cafe Grain by Elgin efficiently delineates various functional zones, including administration, a commercial kitchen, an open coffee bar front, and diverse seating arrangements to cater to different groups of customers. Throughout the day, the interior space is bathed in natural light from the northeastern and northwestern directions. The light enters the space through the glass thresholds and woven rattan blinds, casting ever-changing shadows and creating an enchanting play of light and shadow. The dominant hue within the cafe is a light wood veneer, which envelops the area and the minimalist furniture, emphasising the pervasive presence of this colour.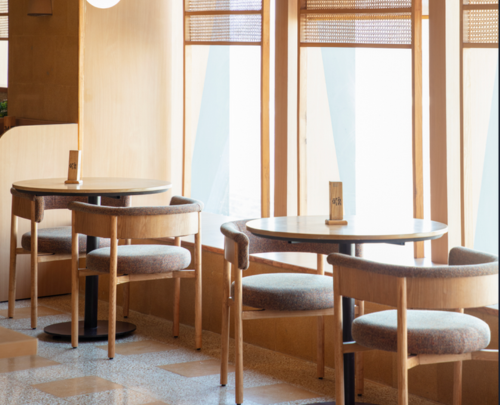 The indoor floor plan gradually unfolds, creating a sense of separation from the outside surroundings. On the right side, a secluded break lounge area beckons customers for gatherings, casual meetings, and relaxation. Sinuous continuous seats, meandering overhead lighting fixtures, and abundant in-built planters integrated into the curving seats contribute to the tranquil and inviting atmosphere of this space. The heart of the main area is dominated by the seating bay, which consists of a variety of community tables and secluded seating nooks. These spaces are artfully adorned with indoor plants that interrupt the prevailing brown colour scheme, adding a playful touch to the ambience. Adjacent to this seating bay is the open coffee bar, designed to resemble charming boulangerie fronts, complete with folding wooden shutters suspended from the top.
Flanking the central zone, the multilevel amphitheatre-style seating provides guests with a casual and flexible space to relax, engage in conversations, gather, and enjoy a fresh perspective of the surroundings. The seating is accompanied by sprouting pedestal tables, offering a place to rest drinks or belongings. Throughout the venue, wooden spheres serve as a recurring motif, positioned as if in a state of rest, adding an artistic element to the overall aesthetic of the cafe. Each element has been baptised in an Indian DNA through locally sourced materials and craftsmanship.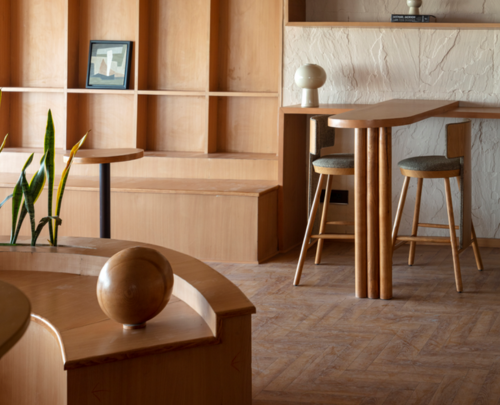 A zealous blend of aesthetic harmony and spatial planning, Grain exudes a chic and cosy atmosphere with its understated elegance at its core. A zen-like virtue devours the space making it a truly exceptional sensory journey. A buoyant space that grounds one's senses, Grain by Elgin offers a plethora of experiences woven into the tapestry of the venue.