In the midst of Mumbai's iconic Kala Ghoda sits a 1,100-square-foot whimsical boutique. An ode to J.R.R Tolkien's Hobbitian world, Papa Don't Preach flagship store, dipped in hues of lavender and pink is straight out of a fairytale. With captivating enigmas gazing out from the windows, it entices pedestrians to step into a realm detached from ordinary existence. A homegrown luxury label by Shubhika Sharma, Papa Don't Preach is known for its bold and unconventional designs characterised by a unique fusion of vibrant colours, intricate embellishments, and unconventional silhouettes. The brand embraces a sense of rebelliousness and fearlessness, challenging traditional fashion norms and pushing boundaries. To convey the same through this flagship store, Shubhika turned to her sister and the founder of Design Hex, Shimona Bhansali to turn her vision into reality.
Papa Don't Preach with its penchant for experimentation and eclecticism is very evident in everything Shubhika creates and the design of the store reflects the same. Being a true embodiment of Shubhika, who is also a voracious reader, the store is based on everything 'not real'. Each corner of the store is like a page out of a different story; be it a Jack and the Beanstalk-inspired tree or a door for elves or an Alice in Wonderland-inspired chandelier or an Aladdin-esque inspired star-studded ceiling, the space is the epitome of a mesmerising blend of whimsy and fantasy.
A haven of all things extraordinary, the carefully crafted store by the designer duo was a collaborative and inspiring experience. Shimona mentions that it was their shared understanding of the brand's vision, combined with each of their complementary design sensibilities, that allowed the sisters to create a space that truly encapsulated the essence of Papa Don't Preach. The journey was filled with creative exploration, pushing boundaries, and striving to bring the brand's fairytale-like world to life.
The brand represents the new age of modern India, characterised by its contemporary and rebellious style, and its focus on empowering women. The store design had to reflect these brand elements while also incorporating sustainability and responsibility. To achieve this, the store design deviated from the typical four-wall, ceiling, and floor layout. Instead, the aim was to create a futuristic and natural space that embodied the brand's essence. The store is a personification of the founder, Shubhika, and aimed to capture her fairy tale beliefs and her desire to bring a little magic and goodness into everything she does and must I say, Shimona nailed the vision to the T.
The store design, while whimsical and enchanting, also maintained practicality and functionality for daily operations. The layout was carefully planned to ensure efficiency and movement within the store. Once the functional aspects were established, the whimsical elements were added to enhance the overall aesthetic. This approach struck a balance between creating a visually appealing space and ensuring its practicality for the staff and customers. While the store design primarily focused on creating a unique and immersive experience, it did not incorporate specific elements related to the local culture and sensibilities of Mumbai, like most spaces in Kala Ghoda do. The aim was to transport customers to a different world, rather than grounding them in the city's cultural context. Hence, the store design emphasised creating a fantastical experience rather than reflecting the local culture.
Although some constraints limited a few envisioned elements (re: a hologram bunny that greets all customers), efforts were made to make the store design as idiosyncratic as possible. The entrance featured Hobbit-inspired doors and windows, creating an enchanting and magical atmosphere. Organic structures and railings resembling intertwined creepers were incorporated, along with a wishing tree adorned with glass and metal elements inspired by Shubhika's clothes. This tree encrusted with jewels and having a reflective gold glass finish is one that Jack (from Jack and the Beanstalk) would have loved! In terms of materials, we used a combination of glass, wood, and lime plaster texture to bring the design to life. The flooring featured organic patterns in blue and peach tones, created with glass mosaic pebble shapes. This choice reflected the brand's colour palette and added a unique touch to the space. The walls were adorned with candy floss pink lime plaster, which further emphasised the brand's vibrant and contemporary identity, said Shimona.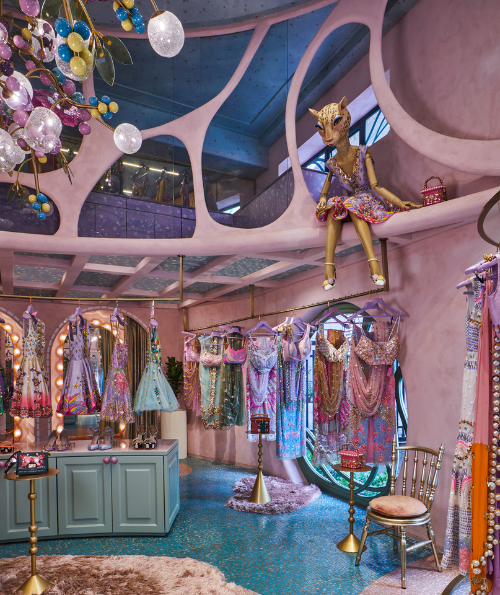 To create a sense of height and grandeur within the constrained space, partial mezzanine floors were introduced whilst the ceiling was wallpapered with a sky and star pattern, reminiscent of the enchanting atmosphere in Harry Potter. One can also spot Shubhika's animal-esque gender-neutral mannequins sitting in the intricately carved ceiling patterns, just waiting to welcome visitors into the majestic charm of the store.
Moving to the exterior of the store, the sister duo wanted to entice passersby and invite them to step into the whimsical world of Papa Don't Preach. The lavender-coloured store exterior was eye-catching and unexpected, setting it apart from its neighbouring establishments. Motifs inspired by Shubhika's clothing embroidery were incorporated into the structure, creating an icing-like decor. The round green windows and Hobbit-inspired doors added a touch of fantasy, while a mini elf door specifically designed for the "elves of Papa Don't Preach" added a delightful and playful element.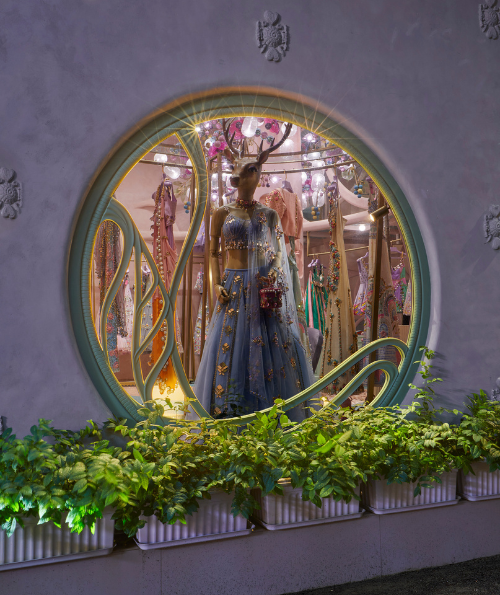 The sisters' fantasy-driven childhood is the true inspiration of the store and this collaboration allowed for the exploration of a hidden, colourful, and fairytale-inspired side of their design capabilities. The continuous push between Shubhika and Shimona led to a dynamic and ever-evolving creative process, ensuring that the store design perfectly embodied the brand's vision and created a truly magical experience for customers. A celebration of individuality, the space is indeed a portal to a phantasmagorical-ly magical world