Ralph Lauren is a globally recognized fashion brand that embodies the American spirit and represents classic elegance. Established in 1967 by Ralph Lauren himself, the brand has become synonymous with luxury and refined taste. With its distinctive polo player logo, Ralph Lauren has become a symbol of status and prestige.
One of the key strengths of Ralph Lauren lies in its ability to seamlessly blend traditional and contemporary elements. The brand is renowned for its preppy and sporty aesthetic, which effortlessly merges with a sense of timeless elegance. Ralph Lauren's designs often feature clean lines, tailored silhouettes, and a neutral colour palette, exuding an understated sophistication.
In 2021, Ralph Lauren made a significant statement when it unveiled its new store on Via della Spiga, a charming pedestrian-only street adorned with cobblestones in Milan. This store not only showcased the brand's fashion collections but also introduced The Bar at Ralph Lauren, an exquisite dining experience that quickly became a popular destination in the city. It became evident that Ralph Lauren aimed to bring a touch of the American lifestyle, beyond fashion, to Milan.
Now, during Salone del Mobile and Milan Design Week 2023, Ralph Lauren took its lifestyle aspirations to new heights. The brand has transformed the flagship store's five-story facade into a captivating display inspired by the textiles found in the Ralph Lauren Home collection. The installation features a faded, watercolour-like patchwork design, predominantly in soft shades of red, pink, dusty blue, and cream. The choice of colours and the slightly worn appearance of the installation create an atmosphere of vintage charm and understated elegance. The patchwork design evokes a sense of nostalgia and comfort, reminiscent of heirloom fabrics and treasured memories. It serves as a visual representation of the themes and aesthetics found in Ralph Lauren's home textile range.
By adorning the facade with these textile-inspired designs, Ralph Lauren further immerses visitors in the brand's distinctive lifestyle experience. It transcends the boundaries of fashion and extends into the realm of interior design, inviting individuals to explore the harmonious connection between fashion, home decor, and personal style. This artistic installation not only serves as a captivating sight but also acts as a powerful marketing tool, attracting the attention of design enthusiasts and fashion aficionados alike during this year's Salone del Mobile and Milan Design Week. It showcases Ralph Lauren's commitment to creativity, attention to detail, and the seamless integration of various facets of the American lifestyle.
Through this ambitious project, Ralph Lauren has successfully transformed its flagship store into a visual representation of the brand's essence. It offers visitors a glimpse into the world of Ralph Lauren Home and reinforces the notion that Ralph Lauren is not merely a fashion brand but a purveyor of a complete lifestyle experience. The textured patchwork design on the facade serves as a testament to Ralph Lauren's ability to blend classic elegance with contemporary sensibilities, capturing the hearts and imaginations of those who appreciate timeless beauty and sophistication.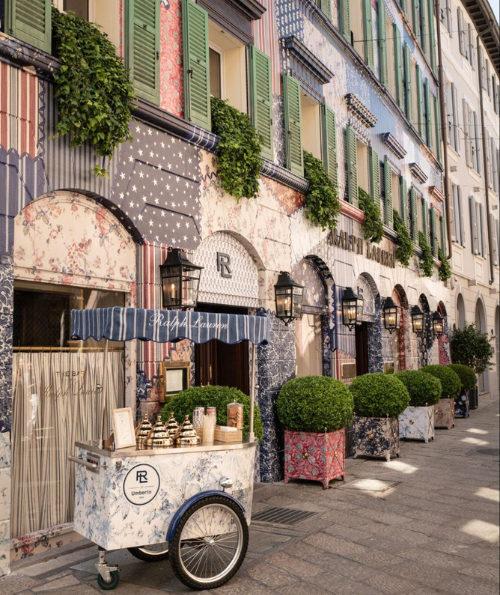 With a longstanding appreciation for the timeless beauty and rich culture of Milan, Ralph Lauren and its Via della Spiga store joined in on the city's weeklong celebration of Milan Design Week. The flagship, along with The Bar at Ralph Lauren, became the destination during Milan Design Week with an immersive experience that presented a distinctive vision of American style in a historied Milanese setting defined by gracious hospitality. A reimagined grand Milanese residence located in the heart of Milan's "Quadrilatero della Moda," the flagship features Men's, Women's, Double RL and a curated selection of gifts and decorative accessories from the Home collection, epitomising Ralph Lauren's lifestyle approach to design. The Bar at Ralph Lauren, with its turn-of-the-century character and courtyard garden, offers uniquely American service and cuisine.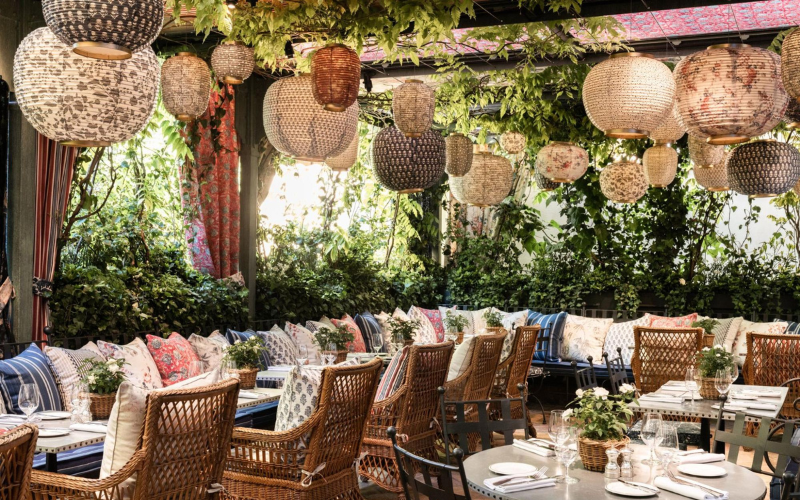 The Bar at Ralph Lauren is reimagined with the intimate courtyard featuring waves of pattern from elegant florals and antique block prints to ticking stripes and relaxed batiks cascading from above to envelop the outdoor dining area. Wicker club chairs and banquettes are now paired with the antique block print inspired Jardin Floral linen, Nikko Stripe in Indigo and Carleigh Embroidered Ticking add to the eclectic collection of patterns, while tables are set with the floral Ralph Lauren X Burleigh earthenware in Indigo.
Fashion is an ever-evolving industry that constantly pushes boundaries and introduces new trends. Within this dynamic landscape, designers and brands play a vital role in shaping the way we dress and express ourselves. Ralph Lauren, a prominent player in the industry, has carved its niche by combining style and sophistication to create timeless and iconic pieces.
Ralph Lauren, the renowned fashion brand, has been making a notable shift towards embracing the concept of lifestyle. Recognizing the evolving needs and desires of its consumers, Ralph Lauren has expanded its offerings beyond clothing to create a holistic lifestyle experience. With a keen focus on craftsmanship, quality, and timeless elegance, the brand now curates a range of products that extend beyond fashion, including home decor, fragrances, accessories, and even hospitality. By seamlessly integrating these elements into its brand identity, Ralph Lauren has successfully created a lifestyle brand that embodies sophistication and luxury in every aspect of daily life. Whether it's dressing impeccably or transforming living spaces into havens of style, Ralph Lauren is committed to providing its customers with a complete lifestyle experience that truly reflects their individuality and taste.