Parman Designs, a visionary enterprise founded by Param, a design enthusiast with a post-graduation from FDDI, and Manuj, a design and material expert holding a postgraduate degree from NIFT, stands at the intersection of artistry, sustainability, and innovation. Originating from a shared commitment to shaping a more eco-friendly world, the brand encapsulates a design philosophy rooted in the conscientious integration of nature into our lives, particularly within the realm of construction.
As self-proclaimed makers, explorers, dreamers, and ardent lovers of all things beautiful and aligned with nature, Param and Manuj have cultivated an ethos that transcends traditional boundaries. This ethos not only serves as the guiding force behind their creative endeavours but also underscores their relentless dedication to fostering a sustainable and harmonious coexistence with the environment. Parman Designs emerges as a collective of artisans, craftsmen, and innovators who find inspiration in the natural world, channelling their efforts toward the creation of custom-crafted, bespoke architectural concrete products. Enthusiastically collaborating with designers and architects keen on pushing the boundaries of concrete, the brand has become synonymous with exciting experimentation and the seamless blending of industrial and natural elements.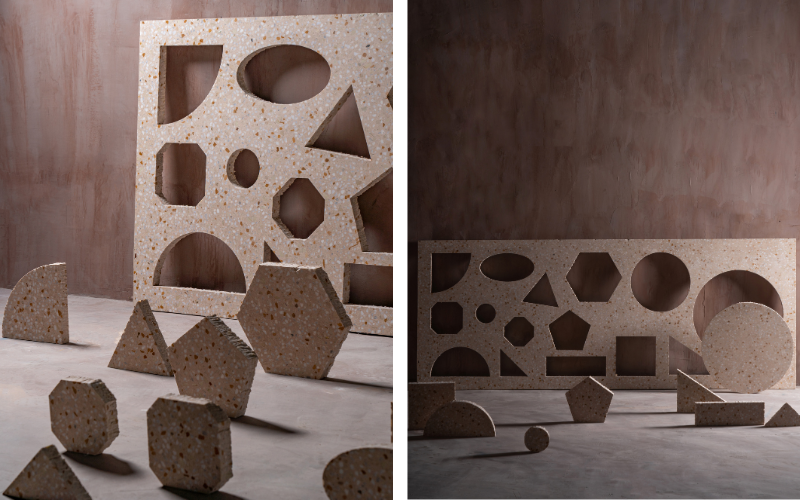 Terrazzo, a resurgent protagonist in their creations, offers a canvas of possibilities, allowing architects to explore diverse design options by incorporating chips of marble, quartz, glass, granite, and other materials into a cementitious or epoxy binder. Beyond aesthetics, Parman Designs places a strong emphasis on client engagement, transforming unique design visions into reality through a synthesis of creativity, technical proficiency, and a deep understanding of the client's needs. Architects, pivotal to this transformative process, employ their senses to evaluate materials and discover new design possibilities, culminating in the expansion of approved samples to fit the intended space during the installation process. The brand's fusion of industrial and natural elements serves as a testament to its commitment to crafting products that not only enhance living spaces but also contribute positively to the environment. Terrazzo, a versatile building material utilized by Parman Designs, stands out for its durability, design flexibility, and low maintenance, making it a preferred choice for decorative flooring systems, walls, and various other applications in both residential and commercial settings. Moreover, terrazzo's positive impact on indoor air quality aligns seamlessly with Parman Designs' dedication to eco-friendliness, making it an ideal choice for architects and general contractors seeking LEED credits for their projects.
The founders, Param and Manuj, bring a diverse set of skills and experiences to the table, with Param's love for concrete and experimental artistry complemented by Manuj's expertise in online fashion and lifestyle production and retail. Together, they conceived the idea of a design label focused on concrete and terrazzo products, resulting in the inception of Parman Designs. Param's journey, from experimenting with a fruit juice box to founding a label dedicated to beautiful and sustainable art pieces, reflects his unwavering passion for the transformative potential of concrete. On the other hand, Manuj's desire to work with natural materials that bring happiness to people found its perfect outlet in the realm of concrete, solidifying their collective vision.
Parman Designs emerges not merely as a brand but as a narrative woven from the threads of inspiration, dedication, sustainability, and a profound love for the inherent beauty found in the marriage of industrial craftsmanship and the natural world.
Image Credits: Parman Designs