That feeling of sinking into a hotel bed at the end of a long day, is unmatched and often cannot be recreated even in the most well appointed homes. It's the combination of  crisp white, freshly ironed linen, extra plush pillows, and a blanket which is as light as a feather, that puts to slumber even the most fussy sleepers. While we wish we could stay in those luxe hotel rooms every day, there are some ways in which a hotel-style bed can be achieved at home. 
1. Luxurious bed linen
Hotel-style beds, never have bright or printed bedding. It is imperative to buy luxurious white linen, with a thread count of at least 800 for it to feel luxurious. Use a cashmere throw or layer with sumptuous karate-chopped cushions in silk fabric for a plush and palatial demeanour.
2. A Mattress topper is imperative
Mattresses come in various sizes and materials, however, it is important to understand that along with the right material and right fit, it is necessary to have a mattress topper to give a hotel-style appearance and comfort. Moreover, buying an expensive mattress is not necessary to achieve a hotel-style bed, however, the thickness should not be less than 8 inches.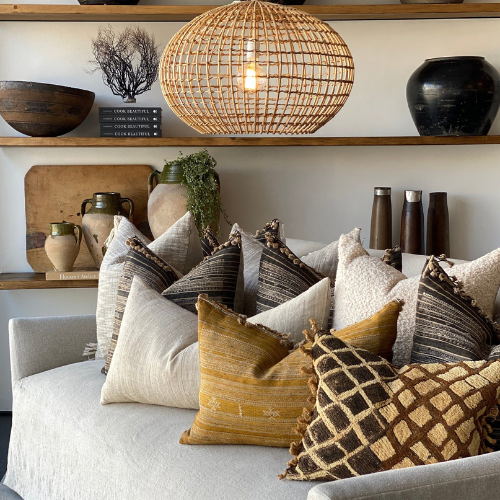 3. Invest in downy pillows
If there is one thing about hotel beds, and that can be easily imitated, it would be their plush pillows. Look at buying goose-down or feather fillers that accommodate all kinds of sleeping positions. If allergic, look for good quality, hotel-grade, microfiber fillers that are extra soft.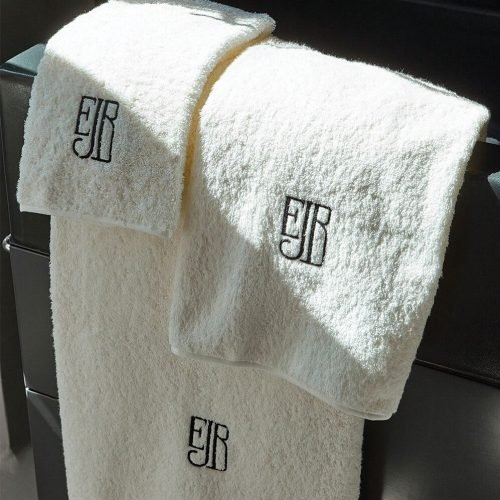 4. Personalised bathrobes and towels
Bath linen is very essential to the hotel experience. When styling your home to emulate the hotel-style experience, invest in plush cotton bathrobes and towels. The only key element to look for when buying towels is that they must be 100% cotton. Also, the heavier the towel, the more luxurious it feels. For that extra personalization, get them monogrammed with initials in an elegant font style. For fresh-smelling and fluffy towels, add some vinegar and baking soda while washing them.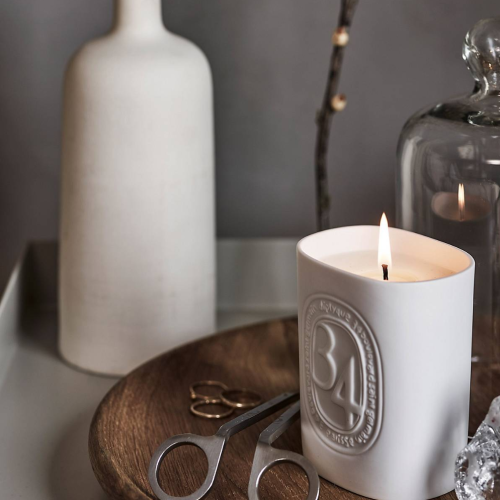 5. Candles to set the mood
Most hotels and chic apartment rentals have one thing in common, they smell very pleasant. Think about using a candle that not only smells exceptional but also has an appealing container. The benefit of using a decorative scented candle is that it also works as a decorative object. Consider using a diffuser for the home, as it will keep the spaces smelling like a hotel at all times.
6. Fresh flowers to make it extra special
Another element that makes a bedroom feel hotel-like, is fresh flowers. Flowers not only look graceful but also are an instant mood-uplifter. Flower arrangements in the bedroom may not have to be very big, instead small bud vases with just a few freshly cut flowers should be enough. Fresh flowers bring a very lifelike ambience to a space. Doing flowers for the home could be a Sunday ritual and can be incorporated in the rest of the home as well. Simply get any fresh seasonal flowers and some green fillers, cut them and put them in small vases with some water. To keep flowers fresh for a long time, keep changing the water  every two to three days.  To prevent the water from becoming cloudy, or inhibit growing bacteria, add some bleach and sugar. This will prevent the water from smelling foul.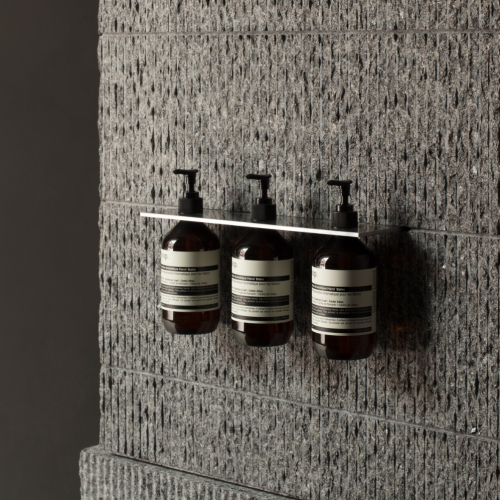 7. Coordinated Bath Sets
A very important factor for that hotel-like experience is to incorporate fancy toiletry. It is important to have a consistent hand wash and hand cream by the sink. Hotels always use a standard set of toiletry in all their bathrooms, so choose a brand and use it throughout consistently. Style the bathroom sink area by adding cotton wool and earbuds in a glass jar. Also, make sure to get rid of all plastic packaging. In case, the toiletries are from different brands, buy nice ceramic or glass containers and pour all the toiletries in them, that way they will still look consistent and coordinated. 
8. Maximise the nightstand 
The bedside table should be of the correct proportion and have enough storage to accommodate all bedside requirements. To create symmetry, plan on having one each on either side. It could have an open shelf and a drawer or some closed storage for books, glasses, or any object required by the bedside. Decluttering the bedside and keeping it well organised, may allow for better sleep. Style the bedside table with a small tray, to keep all the trinkets, whilst keeping it organised as well.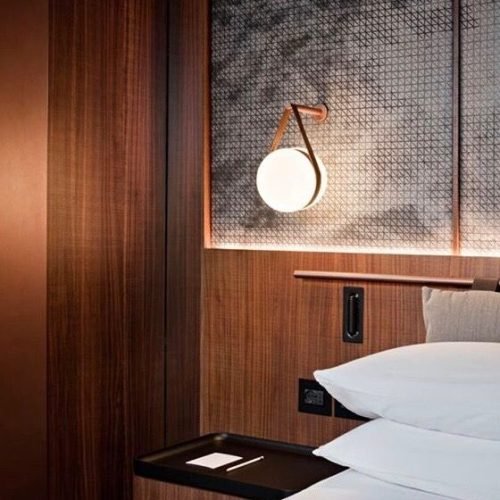 9. Experiment with lighting
Lighting can play a very important role in a bedroom. With new dimming panels, setting different moods has become extremely simple. Making sure the bedroom is not too bright in the evenings is important for good sleep. Hotel beds always have a reading light option, something that must be implemented at home as well. Adding different types of lighting, for instance, ceiling lights, table lamps, and task-focused lighting, is very crucial in a bedroom since it allows for greater flexibility for  different times and requirements of the day. 
10. Perfect making bed
Dressing the bed is something that comes with practice, however, certain techniques can be adopted to get the bed perfectly styled every time. Start by layering the mattress with the topper, and making sure to tuck the adjustable straps under the mattress, so the topper is stable and fixed in its position. For the next layer, place the fitter sheet making sure the elasticated sides fit on the corners. Place the flat sheet and tuck it in on the corners making an angle and folding it under the mattress. Next, place the duvet and tuck it in at the bottom and sides. To lend a more refined and luxurious feel, put on a throw and at least six to eight cushions, making the bed a special place to unwind in. 
A bedroom is a very special and personal space, and probably the most important room of the house. It is where we spend one of the most vulnerable moments. That feeling of curling into the bed, reading a book or watching some TV, and finally falling asleep, is why the bedroom is considered a sanctuary to escape, relax and rest away from the chaos of modern life. Hotel beds are designed to not only encourage sleep but also to provide a place of comfort to their guests, something that can be incorporated in our homes as well.