Living in city apartments, a balcony is often a treasured part of a home, one that connects to the outside world. It provides the outdoor space, within the confines and privacy of a home, and hence it is an intimate outdoor space. The balcony, no matter the size, has immense scope to be designed into an outdoor oasis for morning meditation or even socializing with friends. Understanding the purpose and how the space would be utilized shall help in better designing it. The balcony can be designed and styled in several ways, however below are defined some of the styles that can be used as a starting point for designing this personal oasis. 
Bohemian Chic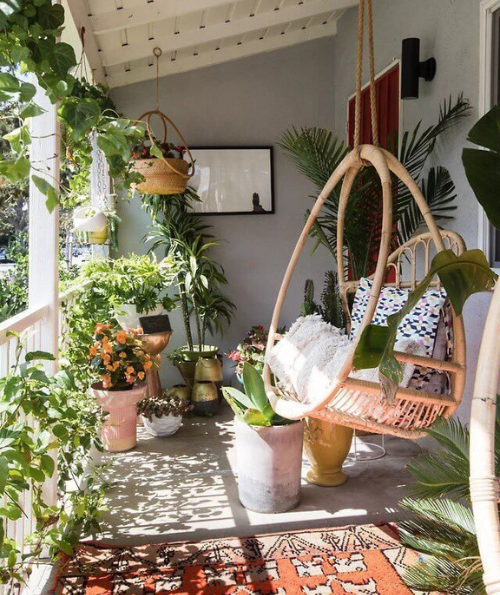 The bohemian style of design in spaces is a free-spirited mix of aesthetics and elements from different cultures, places, and artistic expressions forming an individualistic eclectic style. The emphasis remains on more natural and organic materials, with a hint of pattern and tribal elements. To create a bohemian-style balcony, start by creating a low bench seating made comfortable with cushions. Consider creating a cosy and inviting corner to read books and cuddle up in a throw or blanket under the starry effect of twinkling lights. To create a more free-spirited eclectic vibe, bring in some Aztec cushions and a tribal rug. The bohemian vibe is effortless with no rules, so feel free to add in some pattern and texture like jute, rattan, cane or even crochet for a more layered look. 
Vertical Gardens
Vertical gardens are quite common nowadays and are a perfect solution if the balcony is small. However, vertical gardens, once installed, require care from time to time. They work well in creating privacy, an artificial green wall and also a great decorative green element in any space. The key to achieving a wonderfully curated vertical garden is to carefully choose the correct mix of plants. Since most vertical gardens work on drip irrigation, the upper section receives more water in comparison to the lower section of plants, hence plant choices must be made according to the water requirement of the specific plants used. Vertical gardens give the ability to create several patterns, by mixing plants of different colours, sizes and foliage. In addition, they serve as a great backdrop for furniture and seating areas. 
Urban Oasis
Create an urban oasis on your balcony, using large planters with some gorgeous tropical foliage. If there is a spare wall, accentuate the surrounding with a mirror element or even mirrored panelling. This style of balcony garden is relatively hassle-free and can be executed in any space. Add in some seating, with contemporary-style furniture and lanterns for a day-to-night transition. 
Interior Exterior Style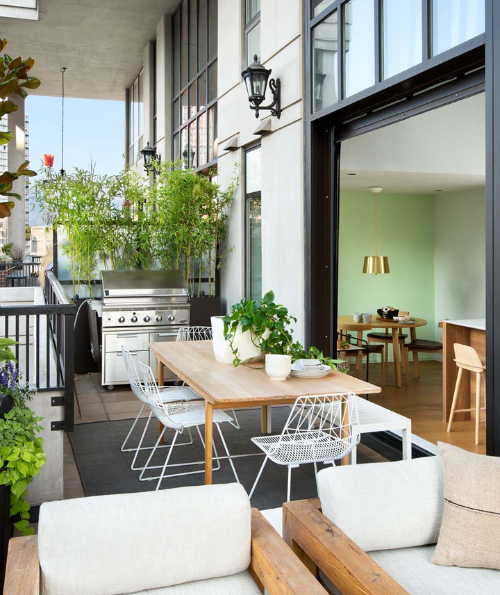 In recent times, the balcony is becoming an equally important space as the living room. And since in most homes, it is an extension of the living room, it is imperative to treat it in such a way that the extension is seamless. If a balcony is big enough to accommodate lounge-style sitting, it deserves furniture that is of similar quality to that of the living room. Think about adding different styles of sitting, like an outdoor dining area for an alfresco lunch, a lounging laid-back chair, for an afternoon nap or even to read a book and some sofa sitting for a small gathering. When choosing a colour palette, think of how elements would blend into the surroundings. Sometimes a blending palette can give an endless illusion, can make it seem boundary-less, and hence create a space that seems very much connected to the indoors and outdoors. 
Entertainers Balcony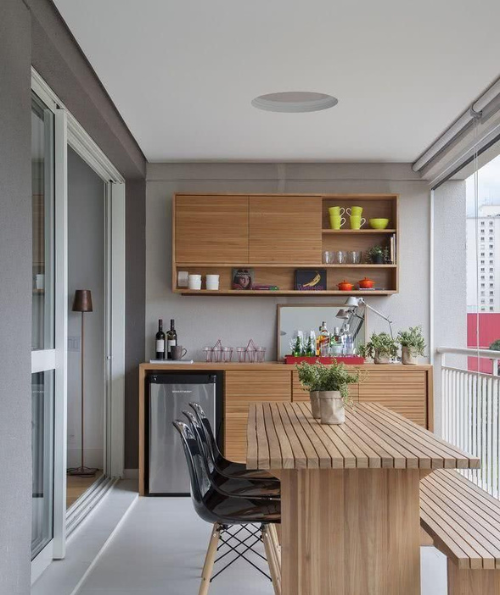 If entertaining is your thing, create a balcony with a small barbecue station and a bar that is well-fitted out. Entertaining friends and family can become a breeze if the balcony is well planned out, while the constant back and forth from the kitchen to the balcony can be considerably managed through the balcony itself. 
In addition to the different styles of balconies, one can choose from, certain elements can be added in any kind of style. 
Less is more
If you are looking at doing something on a small budget, look for repurposed and antique outdoor furniture. Repaint or retouch if required, and add some printed cushions and the space is good to go.
Mirror Mirror on the Wall
Mirrors, whether used in interiors or exteriors, can add so much drama to a space. On the balcony, one can add mirrors in different shapes and patterns. If you are looking at doing up a traditional-styled balcony, you could add a classic wrought iron mirror, or even find an antique one and mount it on the covered side of your balcony. 
Pattern Play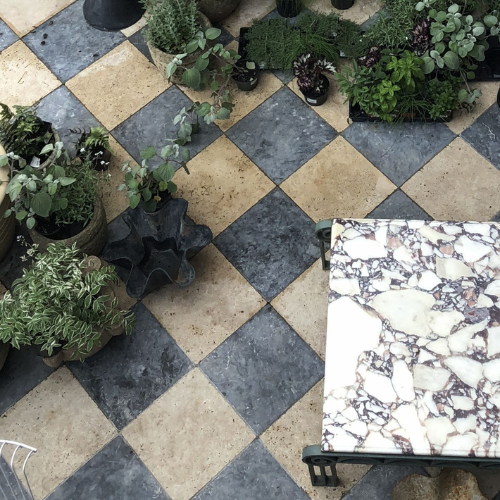 The balcony is a great space to make do with some patterns. Think about layering with the different scales and shapes of patterns. To achieve a more refined and luxurious look, play with tile borders, mix and match colours and create a more exquisite space. A patterned floor is a great way to incorporate patterns into a balcony. The upholstery and cushion on the furniture can be another layer to add to the pattern. And lastly, a patterned outdoor throw rug is again a great element. Finally add different plants, with a curated mix of colours and foliage, to create an eclectic patterned oasis on the balcony.
Tropical Garden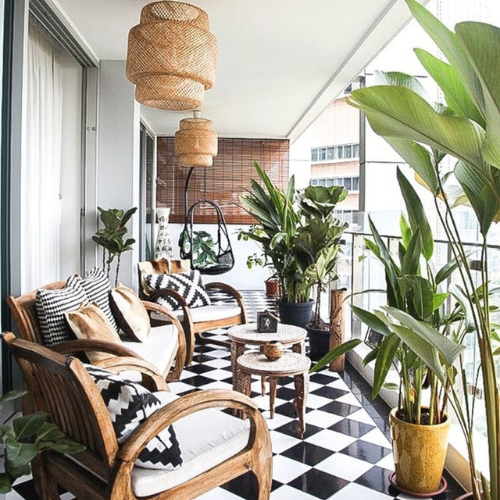 Tropical plants tend to grow vigorously if given the right climatic conditions, hence use them to create a jungle vibe on the balcony. Some of the tropical plants that work well on a balcony are Monstera, money plant, fiddle leaf, and areca palm, to name a few. Plant them in pots and see them convert the balcony into a tropical oasis.
Window Boxes to the Rescue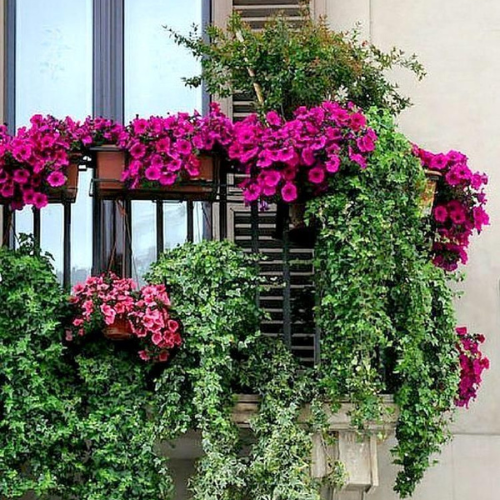 In the flowering seasons, window boxes can be a highlight, add in all seasonal flowers, and make the balcony stand out.
Create a sense of Privacy
Whether it's a small or big balcony, often there are shared walls or sometimes the balcony is at a very low height, so create privacy with the help of wooden battens, bamboo, or even potted plants. 
Pop of furniture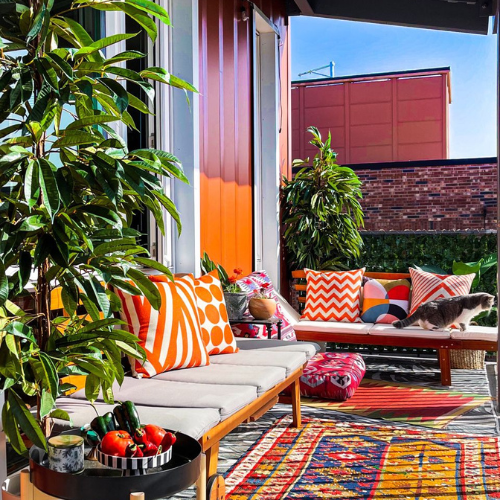 Add bright colourful furniture and make the balcony look right out of a pop art movie, by infusing it with colourful cushions and covers. If there is a spare wall, hang some colourful art or even colourful old crockery or a mix of elements.  
A Balcony is a private space, yet it's outdoor, hence a very tricky yet fun space to create at home. Balcony often is an ignored part of the home or more like an afterthought, however, it must be considered very much part of the entire design scheme. It is not only the space one sees from the inside but it is also the space that one sees from outside. Hence, it is important to consider the way it transitions from the interior of the home to the outside. And yet, consider how it would appear from down below or across the street. When designing a personal balcony, thinking through all these different viewpoints may help better understand the kind of look and feel one wishes to achieve.