Nestled in the serene expanse of Chattarpur, Delhi, overlooking the enchanting Asola Landscape, ANVAYA emerges as a haven of tranquillity, offering seven luxuriously appointed suites for a rejuvenating escape. Within the embrace of ANVAYA, Shivan Gupta channels his exceptional aesthetic sensibilities, manifesting a realm where clean lines, subtle opulence, and minimal luxury intertwine seamlessly. His profound expertise in orchestrating and hosting events and experiences is evident in every facet of ANVAYA's existence. Deeply attuned to the nuances of hospitality, Gupta has woven his mastery into the very fabric of ANVAYA. Alongside his mother, Rama Gupta Tandon, he has crafted a sanctuary that gracefully shields visitors from the city's clamour, inviting them to immerse themselves in a serene refuge that rejuvenates the spirit.
Situated at the fringes of the Asola Wildlife Sanctuary, ANVAYA stands as an oasis of luxury amidst lush surroundings. Majestic Gulmohar, Sal, and Amaltas trees provide a graceful backdrop, while peacocks serenely stroll, and the harmonious symphony of birdcalls fills the air. Within ANVAYA's embrace, every facet of living and dining has been meticulously designed to offer an unforgettable experience of laid-back luxury.
Drawing inspiration from the ethos of post-independence modernist architecture in Delhi, ANVAYA seamlessly integrates the natural world into its design narrative. Guided by sustainable practices and a reverence for the environment, the retreat is a celebration of Delhi's hidden green havens. Within its embrace, spacious rooms open up to verdant forest vistas, accompanied by the attentive service of private butlers. A magnificent pavilion, cocooned by trees, fluttering birds, vibrant butterflies, and industrious bees, beckons patrons to indulge in a culinary journey that traverses the globe. ANVAYA, in its essence, is more than a luxury retreat—it's a sanctuary for weary souls, a place of respite after long workdays, or an idyllic haven for extended weekends.
Crafted by the visionary designer Vishal K Dar, the boutique sanctuary of ANVAYA comprises seven unique rooms that embody his creative prowess. Collaborating closely with Shivan Gupta and Mrs. Gupta over months, Dar breathed life into their vision of an urban oasis, marrying opulent luxury with an unwavering commitment to environmental harmony and joyful living. Nestled within a lush .75-acre expanse, of which only a third is built upon, ANVAYA boasts three distinct structures— the reception, residency, and pavilion. Despite their distinctiveness, they share a common thread of clean lines and minimalist elegance.
The profound architectural philosophy behind ANVAYA encapsulates a harmonious blend of contemporary design and timeless natural beauty. This sanctuary is not merely a destination; it is an embodiment of Shivan Gupta's commitment to cultivating remarkable experiences. As echoes of Amaara Farms and Cafe Monique resonate, ANVAYA emerges as a harmonious marriage between modernist architectural principles, the splendour of nature, and the promise of respite. ANVAYA emerges as a thoughtfully crafted haven, promoting the art of unhurried living amidst nature's embrace, all while upholding a profound reverence for the environment and a dedication to mindful practices as a way of life.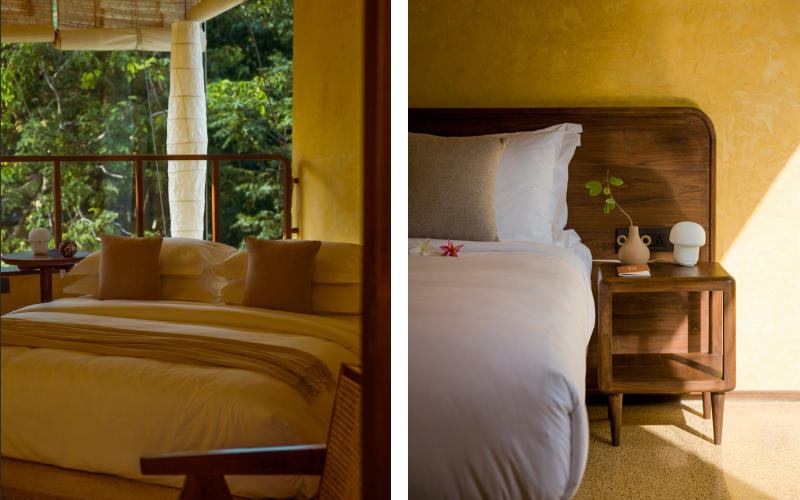 The core of ANVAYA's accommodations is found within the Residency Block, where all seven rooms are situated. Each room, named after regional trees like Sheesham, Shahtoot, Neem, Amaltas, Gulmohar, and Banyan, exudes an air of privacy and seclusion. These rooms are thoughtfully distributed across separate levels, each with its entrance and an unobstructed view of the lush forest, a sight that uplifts the soul. While the Banyan room offers an apartment-style layout with the living area and kitchenette on the ground floor and the bed and bath on the first, the others are designed as double bedrooms.
From the exterior's simplicity of form to the opulent interiors, the design philosophy seamlessly transitions. Mosaic flooring, exquisite teak wood furniture, and captivating statement paper lamps contribute to an air of leisurely elegance. The bathrooms, adorned with ample skylights that bathe the spaces in natural light, provide a haven for relaxation and rejuvenation. The landscape architecture ingeniously integrates gardens of banyan, peepul, neem, and frangipani trees, creating an asymmetrical space that demarcates the entryway from the primary structures. This design choice invites visitors to absorb the tranquillity as they leisurely traverse from the reception to the primary residency or the dining pavilion, which overlooks the infinity pool and outdoor deck, both affording captivating views of the verdant forest.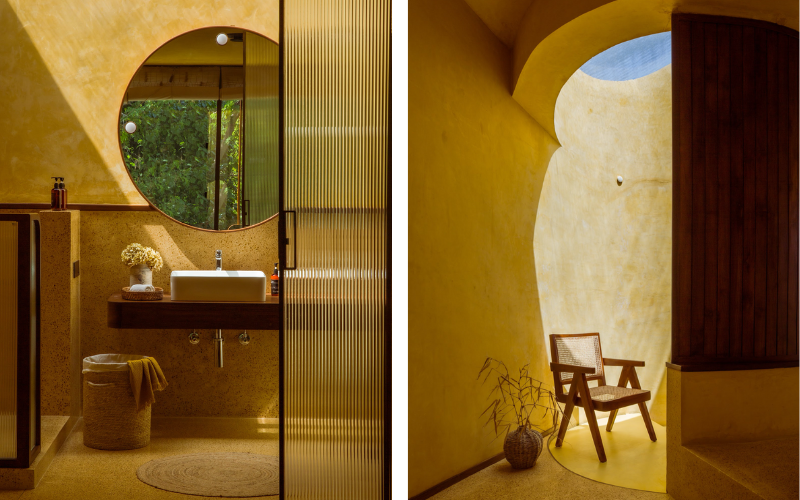 The Pavilion, a sprawling and elegant space, stands at the heart of ANVAYA's living and dining area, offering a haven to linger and bask in its serene ambience. Illuminated by a skylight and adorned with an exposed stone wall that traverses its length, this expansive setting creates the perfect backdrop for intimate gatherings, profound conversations, cherished moments of solitude, and gastronomic indulgence through a sumptuous high tea spread. The dining experience at ANVAYA is meticulously curated, with dishes that celebrate the harmony of flavours and culinary traditions from around the world. From vibrant salads crafted with homegrown vegetables and greens, complemented by homemade breads from Monique, to the freshest seafood sourced daily from the Andaman Islands and prepared to perfection, ANVAYA's dining menu is an embodiment of the thoughtful design. The pasta dishes, adorned with freshly plucked basil or harvested mushrooms, and the Asian curries meticulously curated by native Thai chefs, paint a mosaic of flavours that cater to diverse palates.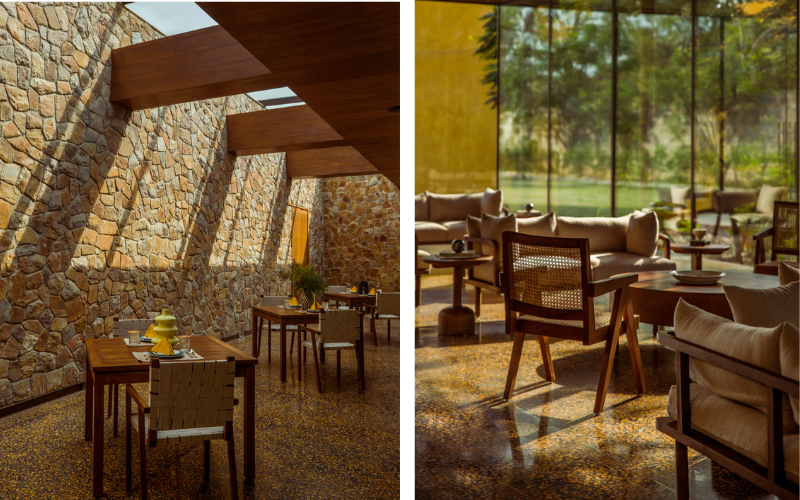 At the heart of ANVAYA's Pavilion, Chef Maxime Montay orchestrates not only the culinary operations but also curates the epitome of epicurean delight – a refined and authentic Parisian high tea experience. Immerse yourself in the sheer indulgence of a warm basket of freshly baked bread and crispy Viennoiseries adorning the breakfast table. Meanwhile, the high tea platters are graced with gourmet savoury choux and delectable mushroom vol-au-vents, a testament to Maxime's mastery of flavours and presentations. The Pavilion at ANVAYA becomes a realm where Maxime's culinary prowess flourishes, inviting guests to savour an unmatched feast for the senses. With Maxime Montay at the helm, ANVAYA's Pavilion transcends into a haven of exquisite culinary craftsmanship, where every dish narrates a story of passion, tradition, and innovation. Delight in the elegance of a Parisian-inspired high tea, where each bite is an exploration of flavours curated with unparalleled finesse.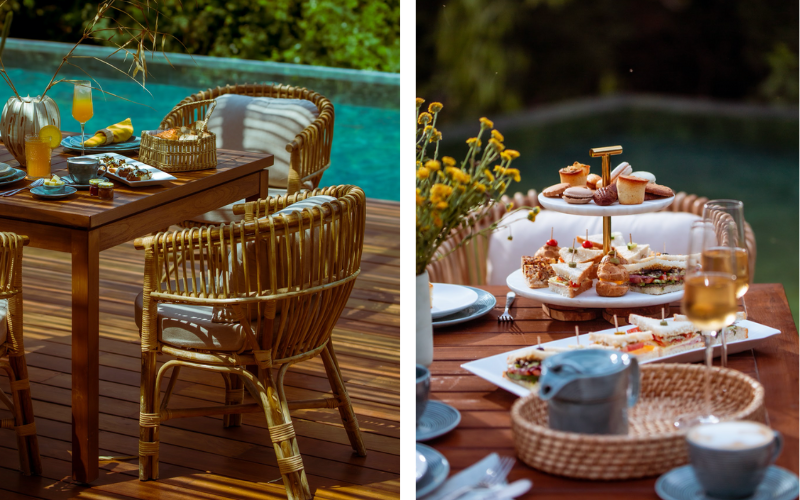 The crowning jewel of ANVAYA's design is the infinity pool, a unique architectural feature that harmoniously blends nature and structure. Positioned over a natural depression, it creates a seamless connection between the pool and its surroundings. The choice of Rajasthani green marble exudes an opulence rarely seen in swimming pools, adding to the overall sense of luxury. Adjacent to the collection, the deck offers a retreat where the company of peacocks and butterflies often outnumbers that of people, making it an ideal spot for sundowners during summer and sun-soaked relaxation in winter.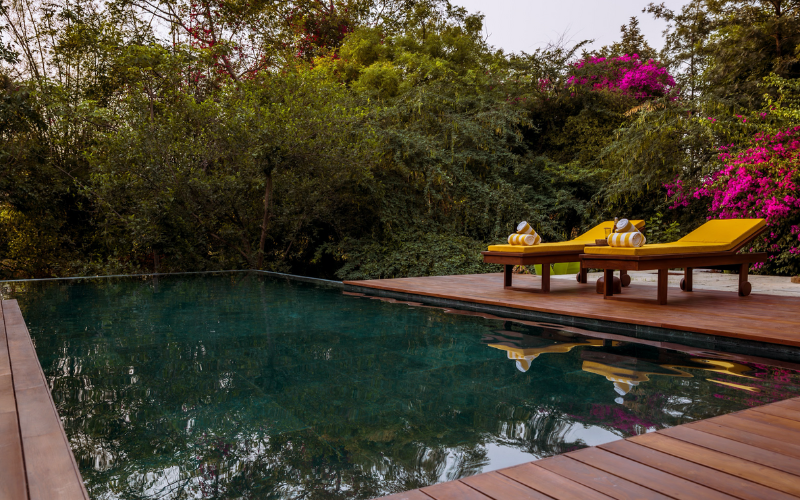 The landscape of ANVAYA is adorned with an assortment of trees, each with its distinctive character—be it the vibrant hues of Gulmohar, Amaltas, Sal, Kachnar, Kadamb, and Semal (Silk Cotton), or the imposing presence of Jacaranda, Mahua (Honey Tree), Kadamb (Burflower), Bargad (Banyan), and Ghora-neem. This diverse arboreal tapestry provides a haven for both local and migratory birds, including the resplendent peacock, the melodious magpie, the delicate white-browed fantail, the striking Indian silver bill, and the captivating bay-backed shrike. The delicate balance of this ecological symphony underscores ANVAYA's design philosophy, where the goal is not only to highlight and preserve this heritage but also to present it as an immersive experience for patrons.
ANVAYA's dedication to sustainability is woven into every aspect of its operation. Waste management includes treating wastewater for irrigation after passing through the sewage treatment plant. Energy efficiency is prioritized by managing AC and geysers, and ample natural light reduces electricity consumption. Indigenous materials like lime plaster and render aid both cooling and insulation, showcasing ANVAYA's harmony with nature.
The sanctuary's commitment extends to safeguarding local fauna by eschewing outdoor fumigation, utilizing natural repellents, and nurturing indigenous flora. ANVAYA's stringent no-plastic policy and self-sustaining kitchen, where 80% of produce is in-house and waste is composted, reflect its environmental dedication. This holistic approach epitomises how luxury can coexist with eco-consciousness.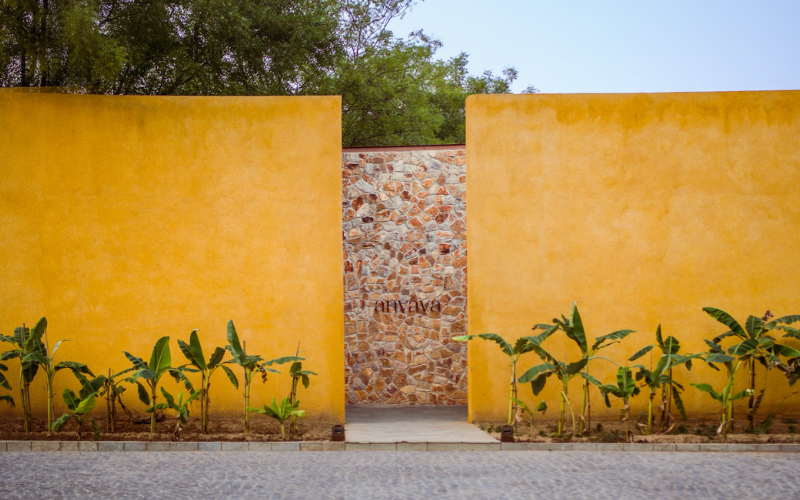 ANVAYA stands as the epitome of thoughtful design, mindful luxury, and environmental stewardship. Its architectural elegance seamlessly intertwines with the natural beauty of its surroundings, creating a haven of tranquillity. With a commitment to sustainability ingrained in every facet of its existence, ANVAYA proves that opulence and responsible practices can coexist harmoniously. As patrons step into its embrace, they embark on a journey that transcends the ordinary, inviting them to experience the symphony of nature, the allure of exquisite design, and the pleasure of sustainable living—a true testament to the art of unhurried and mindful indulgence.
Image Credits: ANVAYA