In the heart of Mumbai's historic Colaba district, a transformative and visionary space has emerged, redefining the landscape of Indian design and craftsmanship. æquō, India's first-ever collectable design gallery, stands as a testament to the convergence of artistry, culture, and innovation. Founded by Tarini Jindal Handa and creatively directed by Florence Louisy, æquō is a remarkable journey into the world of contemporary collectable design, offering a unique perspective on the intersection of materials, makers, and designers. This essay explores the profound impact of æquō on the Indian design scene, shedding light on its mission to connect global creativity with India's rich heritage of craftsmanship.
Collectible Design: A Paradigm Shift in India
India's art galleries have long been spaces dominated by traditional art forms, leaving limited room for the celebration of design as collectable art. However, æquō dares to challenge this norm by embracing the idea of collectable design galleries, a concept well-established on the global stage. International luminaries like Friedman Benda, Carpenters Workshop, and Nilufar have successfully demonstrated that limited-edition design can attain the same prestige and value traditionally reserved for art æquō emerges as a pioneer in this paradigm shift.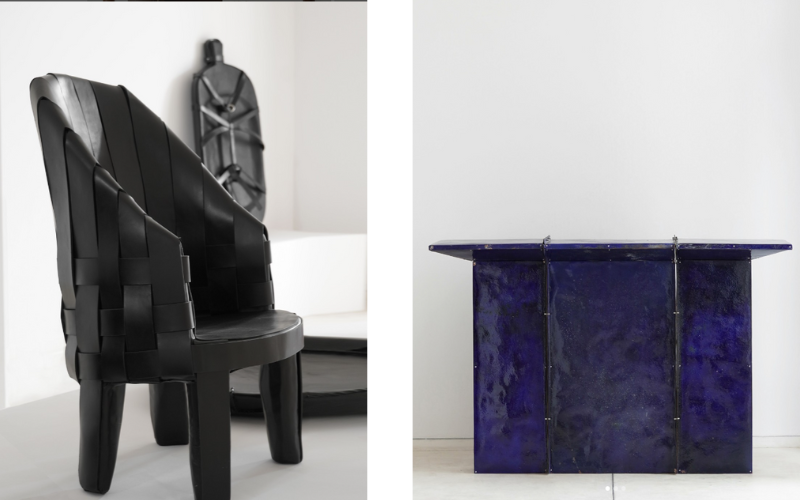 The Birth of æquō
The story of æquō begins with a serendipitous encounter in Paris between Tarini Jindal Handa and Florence Louisy. Bonding over their shared vision for promoting collectable design in India, they embarked on a remarkable journey. The French architect Ivan Oddos was commissioned to design the gallery's interiors, which would later become a testament to India's craft and innovation. Under Tarini's vision, æquō was born, setting out to bridge the gap between global design minds and India's profound craft techniques.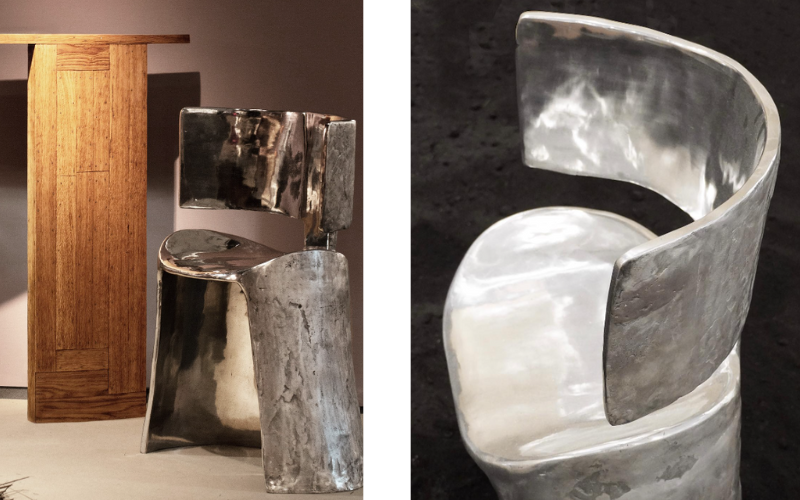 Craftsmanship at the Core
One of the distinguishing features of æquō is its unwavering commitment to Indian craftsmanship. While the designers may come from across the globe, the origin of every piece showcased at the gallery is rooted in India. This exploration of the familiar in search of the unknown is a tribute to India's raw materials and their transformative potential. Every design at æquō reflects a deep appreciation for the intrinsic value of raw materials, pushing the boundaries of creativity and giving rise to a distinct design language.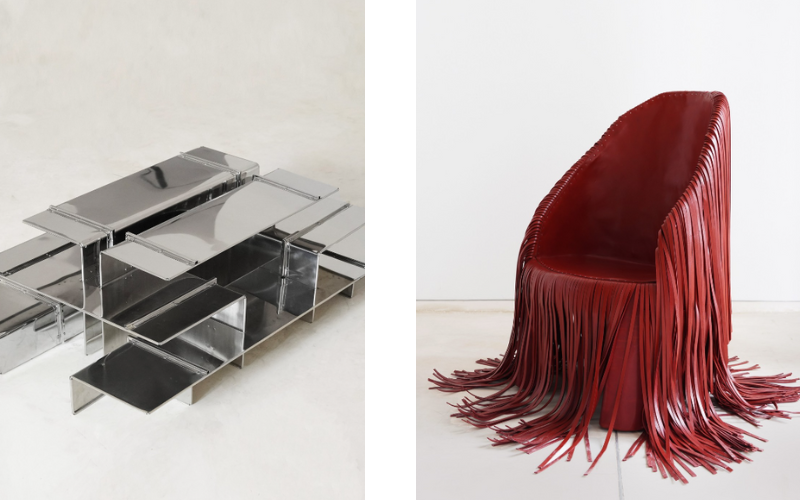 Collaboration and Innovation
æquō's approach to collectable design is not merely transactional; it's deeply collaborative. The gallery invites designers to immerse themselves in India's rich craft heritage and work closely with local artisans. This collaborative ethos ensures that each design is a product of dialogue, respect, and cultural exchange. Florence Louisy emphasizes, "It's not just about asking a designer to give us some drawings. It's a whole development process." æquō becomes not just a gallery but an "Edition House," where the journey from concept to exhibition is a profound exploration of possibilities.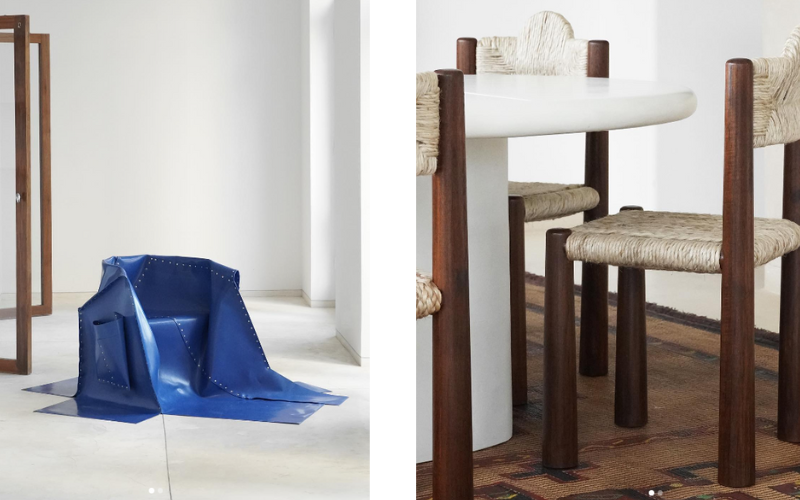 æquō's Architectural Canvas
The physical space that houses æquō is a work of art in itself. Architect Ivan Oddos envisioned a white canvas that could adapt to accommodate any exhibition. Every detail, from the choice of materials to the arrangement of space, reflects a harmonious blend of modernity and tradition. The gallery's location in an old colonial building presented a unique challenge: striking a balance between preserving the original structure and creating a space with a distinct personality. The result is a space flooded with natural light, characterized by open volumes and thoughtful details.
Exploring RAW: Florence Louisy's Debut Exhibition
æquō's inaugural exhibition, titled RAW, showcases the remarkable work of Florence Louisy herself. The collection invites viewers to explore the unprocessed, untouched, and raw nature of materials. Florence's design sensibility marries seamlessly with a diverse range of craft techniques, from pottery to embroidery. Through her creations, she uncovers the hidden beauty and depth of materials in their natural state. Each piece in the collection offers a glimpse into the vast potential of Indian craftsmanship, including brass and silver-plated tables, sculptural bronze pieces, hand-sculpted marble lights, and hand-knit linen rugs.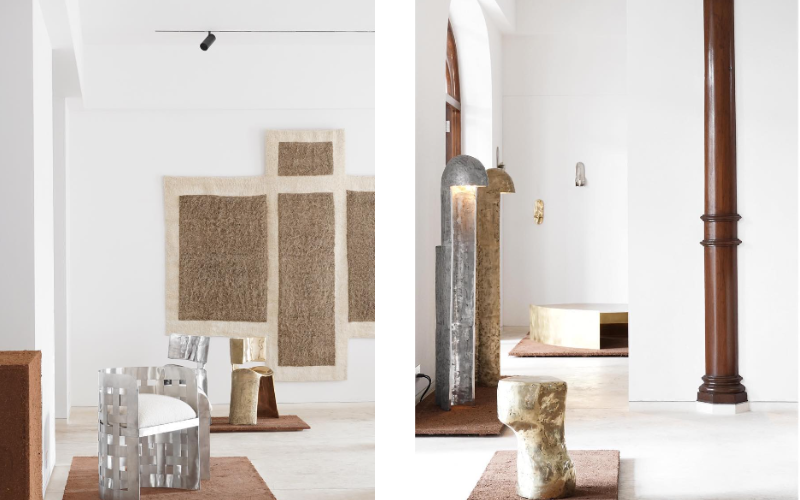 Cultural Fusion at æquō
Florence Louisy aptly describes her excitement about the aesthetics of cultural fusion, a theme that resonates throughout æquō. By collaborating with global designers and local craftsmen, the gallery becomes a melting pot of ideas, perspectives, and traditions. The resulting designs reflect a harmonious blend of contemporary aesthetics and timeless craftsmanship. æquō serves as a bridge between diverse cultures, materials, and craft techniques, ushering in a new era of appreciation for Indian artistry on the global stage.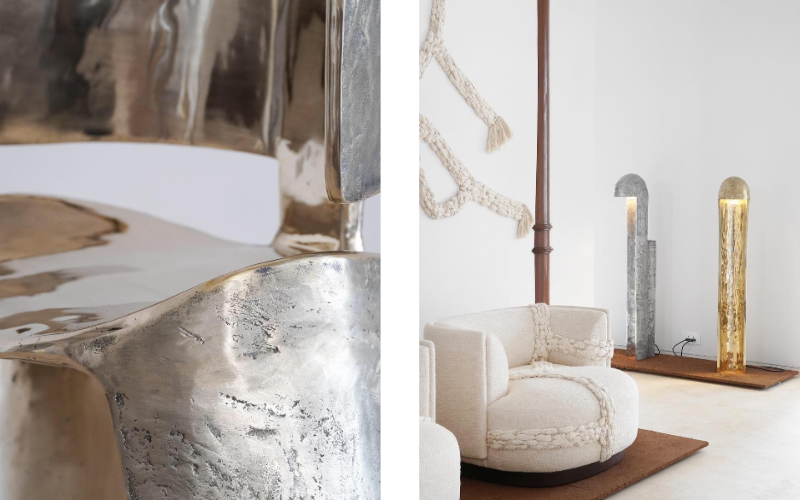 The Gallery's Ongoing Impact
æquō's commitment to preserving and promoting India's craft traditions while pushing the boundaries of design creativity ensures its place as a trailblazer in the collectable design scene. As it continues to evolve and explore new horizons, æquō's influence on the global design landscape promises to be profound, shining a spotlight on the beauty and richness of India's artistry.
æquō represents a pioneering force in the world of collectable design in India. Tarini Jindal Handa and Florence Louisy's visionary collaboration has given birth to a space that celebrates the convergence of materials, makers, and designers. By embracing the transformative potential of Indian crafts and fostering global-local collaborations, æquō has redefined the boundaries of contemporary design in India. Through its dedication to craftsmanship, innovation, and cultural exchange, æquō stands as a symbol of India's rich heritage and its journey into the future of design.
Image Credits: æquō's Instagram