As the air turns crisper and winter approaches, there is a magical energy that fills the atmosphere. It's that time of the year when the festive spirit takes centre stage, and homes come alive with vibrant colours and joyous celebrations. Diwali, the festival of lights brings with it a sense of warmth, togetherness and a chance to create a truly enchanting ambience within our homes. As we embrace the essence of this beautiful festival infusing our living spaces with a touch of creativity and splendour, get ready to delve into the art of decorating your home for Diwali, through a journey of seven simple steps.
Deep Clean your home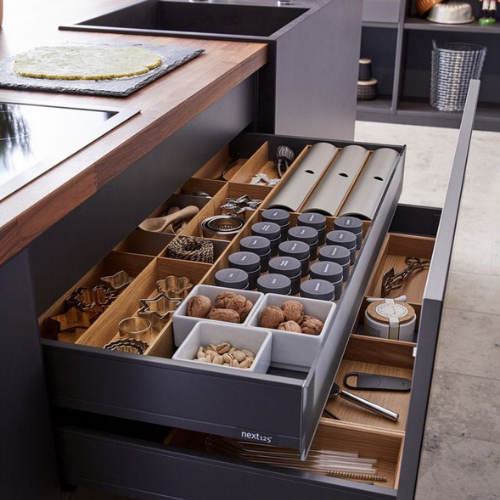 Although this may seem like a no-brainer, a house isn't fully ready for Diwali without one. Start by organising your living space, including the kitchen and closet. Clearing out unnecessary items from your home will bring positive energy into your living space. It's a fantastic idea to hire a professional cleaning company to give your house a thorough cleaning; this can be an occasional exercise to maintain hygiene all year round. 
Identify focal areas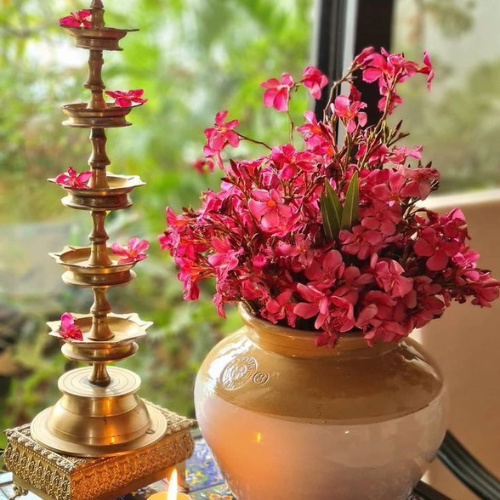 Rather than dispersing décor across your house, think about creating focal spots or even corners that can be emphasised with more clustered décor. Take a foyer or entry console, for example. Start with a table lamp and add a Lord Ganesha or Nandi sculpture on top of it. In addition, display any heirloom silver items, like bowls and vases, and use them for floral arrangements and Diya embellishments. Choose a forgotten nook, set up a console small table or even a small chest of drawers, To give even more depth and festive charm, layer with a traditional tablecloth—perhaps one made of Banarasi or a block printed fabric. Furthermore, layer and decorate with fresh flowers, mirrors, traditional art, lanterns, and candles.
Traditional upholstery and motifs
Around this time of year, get out all of your vintage prints, and utilise them to give the corners of your house timeless appeal. Bring out your traditional fabrics, whether it is a traditional saree or embroidered dupattas, and use them to layer on your décor. These can be used as magnificent throws on your sofas or as base cloths for your table décor. Cover your couch with embroidered velvet throws, and printed cushions for that splash of colour. Don't be afraid to mix patterns, colours and different materials, this is a time to render maximalism into your home. 
Use brass to add a regal touch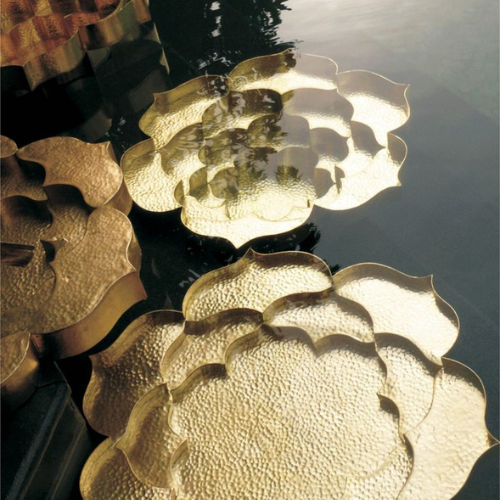 Despite being a metal that is sometimes overlooked in modern design, brass can add a lot of history and grandeur to our homes. Often seems a bit overwhelming as décor throughout the year, but at this time of year, it can bring in the ideal amount of gold into your house. Brass is a very versatile material, and traditional brass oil lamps are an absolute must-have for any Indian home. Try looking for one from an antique shop or dealer if you want to locate a real authentic brass oil lamp in all its grandeur since you might be able to find one that is truly rare and of exceptional quality and craftsmanship.  
Less is more
When decorating your home for Diwali, consider buying elements that you would use year after year. Invest in timeless pieces such as brass rules, candle stands, or even silver vases, these are pieces that can be passed down through generations. Also, there is nothing that lends authenticity like heirloom pieces. Pair them with contemporary flower arrangements and bring into your home that regal yet refined touch. Additionally, use a few substantial objects, that are beautiful in themselves, rather than buying excess frivolous pieces.  
Use fresh flowers to decorate
There is more to Diwali decor than just lights and diyas. There are numerous methods to decorate your home with flowers for Diwali. Consider unconventional and imaginative ways to use traditional flowers in arrangements that are both celebratory and modern. A very appealing yet festive vibe can be added to your home by using a classic festive flower, such as genda, but in a more modern way. Consider hanging garlands from hooks or chandeliers to give the space a more dynamic appearance. Nothing is more aesthetically pleasing than a flower rangoli, which you may place at your front door or even in one of your home's vacant corners. This time of the year, truly embrace festive flowers, such as agenda, jasmine and lotus, they bring vibrance and serenity into our homes. 
Leave a lasting impression with a stunning entrance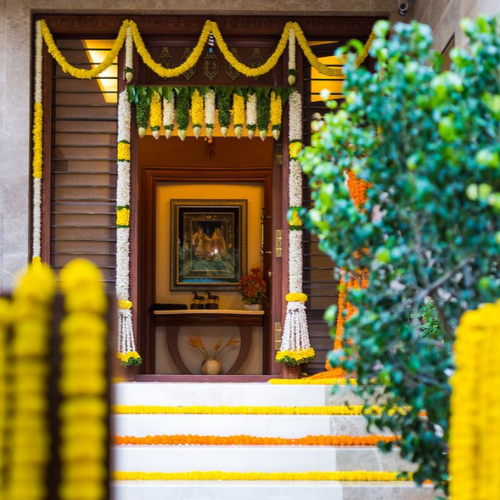 Don't forget to go all out while making this impression, as it is what first draws someone into your house. Here is where you may experiment a little by adding more modern and tropical plants to add that pop of greenery. Consider how you would like your door to be decorated; you might want to hang some flower or leaf garlands. To add a touch of drama, place some tall oil lamps here. The Diya's simmering light is what gives our homes that Diwali glow. For a magnificent celebratory look, layer the floor with exquisite flower rangoli formed of flowing garlands, and then add large vases filled with fresh flowers and Urli made of water, petals, and diyas.
As the Diwali festivities draw to a close, and the last flickering Diya's illuminate the night, we are left with memories of a truly magical time. The joyous laughter, the vibrant colours, and the mesmerising decorations will forever be etched in our hearts. Decorating our homes for Diwali is not just about creating a visually stunning space, but really about embracing that spirit of togetherness, love and gratitude. It's truly about appreciating the beauty around you and living life in the moment!