Prepare yourselves, soon-to-be parents, as the time has come to transform your baby's nursery into a magical haven! Creating the perfect nursery is no trivial task – it's all about crafting a space that's not only warm and charming but also entirely befitting your precious bundle of joy. To assist you in this endeavour, we're here with a dozen fantastic recommendations that will have your nursery become the talk of the town. Let's kick off this nursery preparation party with style!
Plan for the Long Haul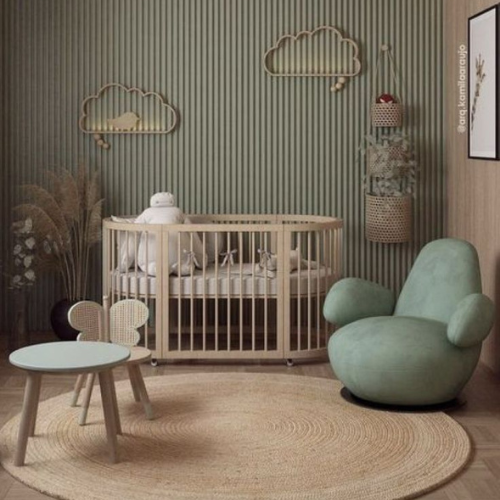 Babies grow faster than you can say "peekaboo!" When designing the nursery, think ahead and choose furniture and decor that can adapt as your tiny human transforms into a not-so-tiny human. Opt for a convertible crib that can become a toddler bed – saving you some future shopping stress! 
Colors that Pop
You want your baby's eyes to go "WOW" when they enter their nursery, right? Choose vibrant colors and playful patterns that stimulate their senses and spark their curiosity. Go wild with pastels, blues, pinks, or even a splash of bold hues – unleash your inner Picasso! 
Storage, Storage, Storage!
Toys, clothes, diapers – you name it, they've got it! Nurseries can quickly become a whirlwind of baby stuff. Avoid the chaos by incorporating smart storage solutions like shelves, bins, and baskets. Pro-tip: Use cute labels to stay organized and prevent any future "Where's the pacifier?" meltdowns! 
Theme It Up
Got a theme in mind? Rock it! Themes add a touch of whimsy to the nursery. From adorable animals to outer space adventures, let your imagination run wild. And hey, you might end up loving the theme as much as your little one does! 
Lighting Love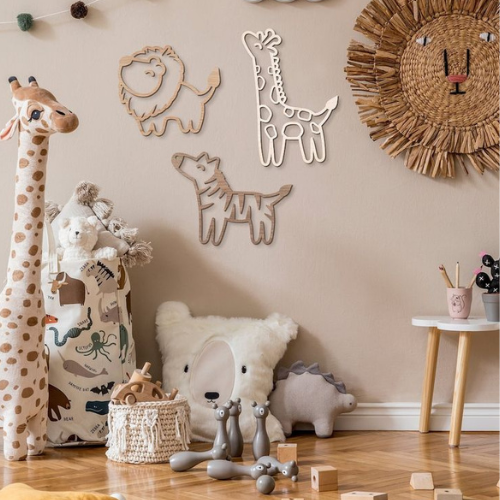 Say goodbye to those harsh, overhead lights! Soft, warm lighting creates a soothing atmosphere for your baby. Add a dimmer switch or fairy lights to set the mood for bedtime stories and lullabies. Nightlights are also a great idea for those late-night diaper changes – no more stepping on Legos! 
Rock-A-Bye Comfort
Who said nursery furniture can't be chic and cosy? Invest in a comfy glider or rocking chair – perfect for those precious bonding moments with your bundle of joy. Plus, it's a great spot for some quality "me time" with your favourite book and a cup of tea. 
Wall Decals FTW
Not a fan of permanent wall art? Wall decals are your saviour! They're easy to apply, remove, and switch up whenever you feel like it. From sweet quotes to adorable animals, let your walls do the talking – without a single nail! 
Rug It Out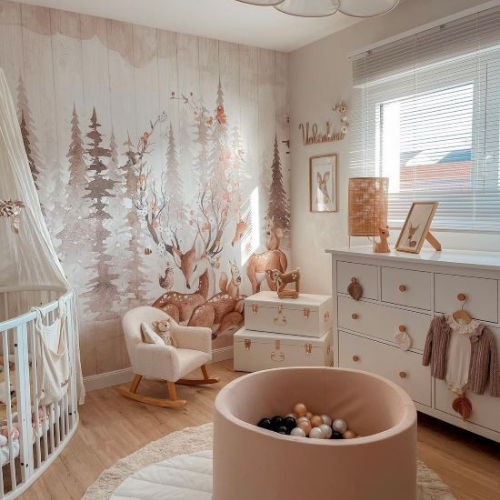 Babies love exploring, and that includes the floor! Lay down a soft, plush rug for tummy time and playdates. Plus, it adds a touch of cosiness and ties the whole room together like a nursery ninja! 
Personalize it!!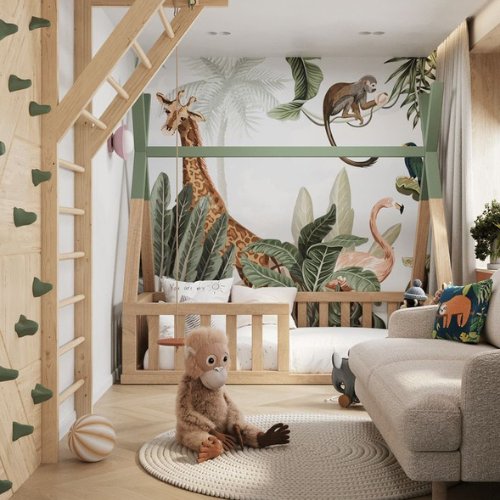 Make the nursery truly yours (and your baby's) by adding personal touches. Frame ultrasound photos, create custom name art, or hang a "welcome to the world" banner. Embrace the uniqueness of your family and create memories you'll cherish forever. 
Safety First, Fun Second
Cuteness is essential, but safety is non-negotiable. Secure furniture to the walls, cover electrical outlets and keep cords out of reach. We know you want your nursery to look like a dream, but a safe dream is even better! 
Go Green!
Bring a bit of nature indoors with some leafy friends! Houseplants not only add a pop of colour but also purify the air and create a calming environment for your little one. Just make sure they're baby-friendly plants – no spiky cacti, please! 
Love and Laughter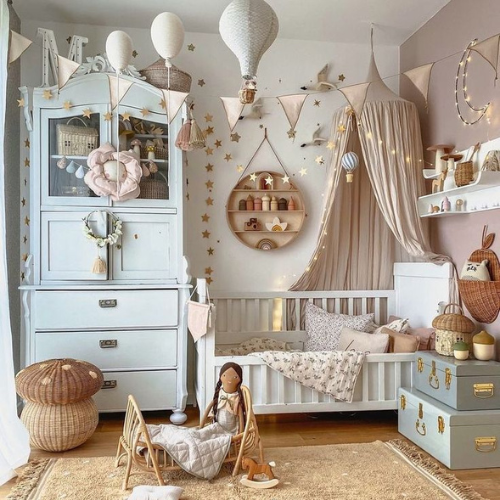 In the end, what matters most is the love and laughter that fill the nursery. Create a space where you and your baby can share precious moments, giggles, and cuddles. After all, that's what makes a nursery truly magical! 
Designing your baby's nursery is an exhilarating expedition, an opportunity to let your imaginative spirit soar and relish every moment of the process. Take pleasure in sharing your successful nursery arrangements and insights with other parents, as you prepare to dive into an extraordinary journey that will be etched in your memory forever. Enjoy the delightful adventure of decorating!